Blood Pump simulates ventricular action of heart.
Press Release Summary: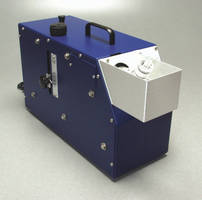 Suited for moving emulsions, suspensions, and non-Newtonian fluids such as blood, Pulsatile Blood Pump is designed for cardiovascular and haemodynamic studies on mice, rats, and larger animals. It minimizes hemolysis with silicone rubber-covered valves and smooth flow paths made only of inert materials. Pump also enables studies of isolated organ perfusion, whole body perfusion, blood transfers, hydration/dehydration procedures, and blood cellular profiles.
---
Original Press Release:

Pulsatile Blood Pump for Simulating the Ventricular Action of the Heart



Harvard Apparatus has introduced the Pulsatile Blood Pump for cardiovascular and haemodynamic studies on mice, rats, and larger animals.

The Pulsatile Blood Pump is ideal for moving emulsions, suspensions, and non-Newtonian fluids such as blood.

This pump truly simulates the ventricular action of the heart making it the perfect pump for studies of isolated organ perfusion, whole body perfusion, blood transfers, hydration/dehydration procedures, and blood cellular profiles.

The Pulsatile Blood Pump minimizes hemolysis with silicone rubber-covered valves and smooth flow paths made only of inert materials. The pumping head is easily disassembled and reassembled for sterilization.

Contact Harvard Apparatus to speak with a staff scientist and receive technical and pricing information.

Harvard Apparatus is a global developer, manufacturer and distributor of innovative and specialized products to enhance bioresearch.

For more information contact:

Harvard Apparatus

84 October Hill Road

Holliston, Massachusetts 01746 USA

Toll Free: 800-272-2775

Phone: 508-893-8999

Fax: 508-429-5732

E-mail: bioscience@harvardapparatus.com

Web: www.harvardapparatus.com