Block Scientific Offering QuikScreen Multi 12 Drug Test Cups for Sale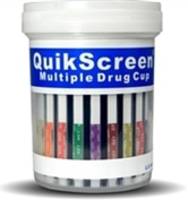 FDA approved QuikScreen Multi 12 urine drug test cupsavailable at Block Scientific provide accurate and immediate test results in minutes.
A leading supplier of laboratory equipment based in New York, Block Scientific is offering CLIA -waived QuikScreen Multi 12 Drug Test Cups that provide accurate test results in just 5 minutes. Ideal for use in physicians' offices and laboratories, this test cup can detect a wide range of drugs of abuse in urine samples including Amphetamine (AMP 1000), Barbiturates (BAR 300), Buprenorphine (BUP 10), Benzodiazepines (BZD 300), Cocaine (COC 300), Methadone (MAD 300), Methylenedioxymethamphetamine (MDMA 500), Methamphetamine (MET 1000), Opiates (OPI 300), Oxycodone (OXY 100), Phencyclidine (PCP 25), and Marijuana (THC 50).
The unit is an easy, fast, qualitative, visually read competitive binding immunoassay method for screening without the need of instrumentation. The test method employs a unique mixture of antibodies to selectively identify the drugs of abuse and their metabolites in test samples with a high degree of sensitivity.
By utilizing antibodies that are specific to different drug classes, the test permits independent, simultaneous detection of any of the drug combinations from a single sample.
Completely made in the USA, this customizable test cup features -
No leakage
FDA 510(K) cleared detection strips
Easy-to-interpret color bands
Built-in test control
18-24 months shelf life
Unlike other drug test kits, the QuikScreen drug test cup does not require any handling or manipulation to activate. Convenience and fast turnaround time make these CLIA-waived cups the right drug testing tool not only for hospitals and rehab centers but also for workplaces.
Block Scientific also offers a QuikScreen Product Configurator tool that allows customers to customize the cup to meet their unique specifications. The company's online store also offers a wide range of both new and refurbished laboratory equipment including chemistry analyzers, pipettes and centrifuges from the industry's top manufacturers.
About Block Scientific
A global clinical laboratory equipment and reagents dealer based in New York, Block Scientific is offering quality and reliable products required for all laboratory applications. Orders can be placed at www.blockscientificstore.com
Contact Information
22 Sawgrass Drive
Bellport NY 11713 USA
Tel: 1-866-203-5777 (toll free)
Tel: 631-589-1118
Fax: 631-589-4088
Email: info@blockscientific.com
More from Thermal & Heating Equipment