Blister Machine operates at 700 blisters per minute.
Press Release Summary: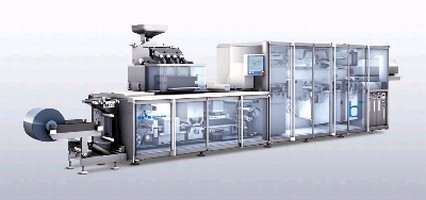 Available in continuous or intermittent configurations, Model B1660 features max format area of 280 x 284 mm, SimTap 3 feeder for simultaneous tablet placement, and touchscreen with 3D visualization. Blister transfer to cartoner process eliminates need for additional product chain in cartoner. In addition to tool quick-change system, machine offers controlled discharge of waste air and heat, and production data acquisition system for process analysis.
---
Original Press Release:

Uhlmann Introduces the B1660 Blister Machine for High Output and High Speed Packaging



TOWACO, NJ - Uhlmann, the world wide leader in blister packaging technology, introduces the B1660 Blister Machine, a high performance model that is available in either continuous or intermittent motion configurations. The B1660 features:

o New SimTap 3 feeder (Simultaneous Tablet Placement)

o Integrated process at blister cartoner transfer

o Operating speed of up to 700 blisters per minute

o Maximum format area of 280mm x 284mm

o TouchScreen with 3D Visualization

o Quiet "Whisper" Mode

o Tool quick-change system

o Controlled discharge of waste air and heat for clean room atmosphere

o Production data acquisition system for fast process analysis

A highlight of the Uhlmann B1660 is the blister transfer to the cartoner, a specially engineered process which saves space and cost by eliminating the need for an additional product chain in the cartoner.

Another exciting feature is the new SimTap 3 feeder which provides a large format range, making it ideal for high outputs. The SimTap 3 ensures that the number of tablets ready for placement correspond with the number of blister pockets ready to receive them. The SimTap 3 also has very few format parts and special servo-driven adjustments to facilitate changeovers and cleaning.

With products that include blister machines, cartoning systems, line-monitoring and control systems, and downstream packaging machinery, Uhlmann Packaging Systems, L.P., provides the North American pharmaceutical industry with sales support, service technicians, on-site training, parts inventory, tool manufacturing and rebuilt machinery, and on-site engineering for line integrations.

Uhlmann Packaging Systems, LP, celebrating its 25th Anniversary in the U.S., is located at 44 Indian Lane East, Towaco, New Jersey 07082. For more information, call 973-402-8855, e-mail info@uhlmann-usa.com or visit our website at www.uhlmannpackaging.com.

Related