Blind Hole Cleaning System helps keep workers safe.
Press Release Summary: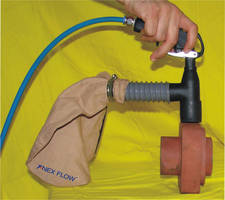 X-STREAM™ BLIND HOLE CLEANING SYSTEM removes dirt, debris, chips, and scrap from drilled holes, deep containers, and grooves ranging from 1 in. dia to 20 in. deep. Once hole adaptor is flush with hole, directing unit as to dislodge and direct all debris into collection bag, this air-driven and portable system creates ideal blow-off force. All dirt and debris are contained within unit as it passes into reusable collection bag. This process protects operator from any contaminants.
---
Original Press Release:

New NEX FLOW(TM) X-STREAM(TM) Blind Hole Cleaning System that Actually Works!!!



Unlike make shift vacuum type systems that do not always work well, the X-STREAM™ BLIND HOLE CLEANING SYSTEM actually works and is specifically designed to remove dirt, debris, chips and scrap from drilled holes, deep containers, and  grooves  from 1" diameter to 20" deep.



The X-STREAM™ BLIND HOLE CLEANING SYSTEM is ideal for blowing out and collecting chips, contaminants and debris from deep containers, drilled holes and grooves whereas blow guns  can create a potentially hazardous situation with flying debris.   The X-STREAM™ BLIND HOLE CLEANING SYSTEM creates the ideal blow-off force once the hole adaptor is flush with the hole directing the unit in such a way to dislodge and direct all the debris into the collection bag.  All dirt and debris are contained within the unit as it is passed into the reusable collection bag, protecting the operator from any contaminants.



- No moving parts

- Driven by air and not electricity

- Aluminum cast construction

- Lightweight and portable

- Various packages available depending on hole diameter and depth

- Maintenance Free

- Safe when used as directed

- Long Life

- Durable

- Ergonometic

- No Electricity so no shock hazard

- Low Air consumption

- Custom designs available



More from Electrical Equipment & Systems