Blending Disc eases finishing in hard-to-reach areas.
Press Release Summary: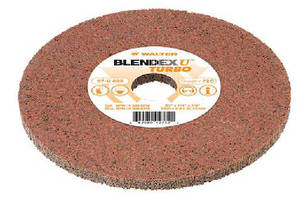 Constructed using heat-resistant non-woven matrix, Blendex U™ Turbo provides consistent finish without smearing. Self-sharpening grains allow for high material removal on many different surfaces, including steel, stainless steel, and aluminum alloys. Using Blendex™ Unitized Technology, disc was designed specifically to blend fillet welds as well as deburr sharp edges commonly found across automotive, aerospace, food and beverage, manufacturing, and fabrication industries.
---
Original Press Release:
New Blendex U Turbo(TM) Blending Disc by Walter Surface Technologies Eases Finishing Applications in Hard-To-Reach Areas
Montreal QC / Windsor, CT – Walter Surface Technologies, the global industry leader in surface treatment technologies, aims to enhance blending and finishing processes in metalworking shops with its new Blendex U™ Turbo blending disc.

The disc was constructed using a heat-resistant non-woven matrix, which helps it to provide a more consistent finish without smearing. "The Blendex U™ Turbo disc is made of self-sharpening grains, so you know the disc will last long, all while providing a uniform finish," says Jonathan Douville, Product Manager, Surfox, E-Weld and Finishing Abrasives at Walter Surface Technologies. "The self-sharpening grains also allow for high material removal on many different surfaces. The disc performs exceptionally well on steel, stainless steel and aluminium alloys." 

Blendex U™ Turbo uses Blendex™ Unitized Technology, and was designed specifically to blend fillet welds as well as deburr sharp edges commonly found across industries such as automotive, aerospace, food & beverage, manufacturing and any fabrication environment. "The disc will conform to tough angles, corners and hard to reach areas," adds Douville. "The wheel is more versatile than many other finishing abrasives, saving you steps in the finishing process and reducing your cycle time."

The Blendex U™ Turbo is part of Walter's world-class high performance finishing abrasives.

About Walter Surface Technologies
Walter Surface Technologies provides innovative solutions for the global metal working industry. From high performance abrasives, power tools and tooling to industrial parts washing systems, cleaners, degreasers and lubricants Walter focuses on helping its customers work better. Founded in 1952, the company is established in 7 countries throughout North America, South America and Europe. International headquarters is in Montreal and U.S. headquarters is located in Windsor, Connecticut. Key certification and awards include ISO 9001: 2008, Wall Street Journal Award; Deutscher Material Preiz; American Eagle Award; CleanTech Cleaning Technology Award.

Web  www.walter.com
Twitter  @waltersurftech
Facebook  Walter
LinkedIn walter-surface-technologies
YouTube TheWalterNetwork

Press Contact
Walter Surface Technologies
Stephanie Boucher
Content Marketing Specialist
sboucher@walter.com

 
More from Machinery & Machining Tools