Pressure Sensors / Detectors / Transducers
BLC Series Low Pressure sensors feature multiple port options.
Press Release Summary: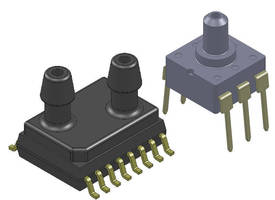 Offering design engineers excellent performance over pressure ranges of ±1 inH2 O through ± 30 inH2O and 15 PSIA, BLC series low pressure sensors are suitable for use with non-corrosive, non-ionic working fluids. Operating from 0.9 to 1.8 volts DC, device functions on low supply voltage, and a temperature range of -25°C to 85°C. Device is available in 1, 5, 10, 20, 30 inH2O (250, 1.25k, 2.5k, 5k, 7.5k Pa) differential and 15 psi (103k Pa) absolute pressure ranges.
---
Original Press Release:
New Basic Low Pressure, Compact Sensor
All Sensors Corporation of Morgan Hill, Californi a has announced a brand new low pressure sensor, the BLC Series. This new device series offers design engineers excellent performance over pressure ranges of ±1 inH2 O through ± 30 inH2O and 15 PSIA. The BLC Series basic low pressure compact sensor is based on All Sensors' CoBeam 2 TM Technology. The devices provide a high output signal at a low operating voltage maintaining comparable output levels to traditional equivalent basic sensing elements. This lower supply voltage gives rise to improved warm-up shift while the CoBeam 2 TM Technology itself reduces package stress susceptibility, resulting in improved overall long term stability. The technology also vastly improves position sensitivity compared to conventional single die devices.

This series is intended for use with non -cor rosive, non- ionic working fluids such as air, dry gases and the like. The compact size of this series will provide excellent opportunities for small mobile devices. The basic output is also ratiometric to the supply voltage and is operable from 0.9 to 1.8 volts DC, ideal for battery applications. Devices are available in 1, 5, 10, 20, 30 inH2O (250, 1.25k, 2.5k, 5k, 7.5k Pa) differential and 15 psi (103k Pa) absolute pressure ranges.

Package Features

• Miniature package, PC board mountable in SMT and DIP lead configurations
• Multiple port options av ailable

Product and Electrical Features

• uPower low supply voltage (0.9V to 1.8V)
• Ratiometric basic output
• 0.1 % linearity typical
• Improved front to back linearity
• Less position sensitivity
• Improved warm-up shift distribution
• Pary lene coating available upon request
• Operating temperature range: -25°C to 85°C

Applications

Ideal applications for this device are; medical devices, medical instrumentation, environmental controls, HVAC, portable/hand held devices, all ultra low pressure applications

Price
Contact factory for price. Samples are available for product testing

For additional information, please visit:

https://www.allsensors.com/products/blc-series

Contact Information:

Han Mai
408 225 4314
hmai@allsensors.com

All Sensors Corporation
16035 Vineyard Blvd. Morgan Hill,
CA 95037
www.allsensors.com
Related