Blade Workstations integrate PCoIP technology.
Press Release Summary: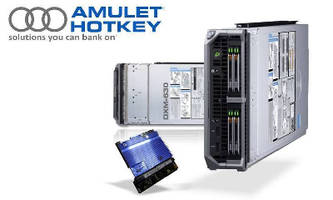 Based on Dell® M630 and supporting up to 2 Intel® Xeon™ E5-2600 v3 processors, DXM630 PCoIP® Blade Workstation delivers true 64-bit workstation OS on server-grade hardware with as many as 36 cores. System supports 768 GB of DDR4 memory and integrated solid state drives. Up to 16 workstation blades can be installed in only 10U of rack space. For virtualized environments, DXM-A variant provides PCoIP hardware offload processing power to optimize frames per second delivered to end point.
---
Original Press Release:

AMULET HOTKEY® Launches a Range of High Performance PCoIP® Graphics and VDI Products for Dell's New 13G Blades



Fast on the heels of last month's launch by Dell of their 13th generation M-series blade servers, Amulet Hotkey is proud to announce availability of a compatible range of PCoIP and VDI workstation products that bring unparalleled density and graphics performance to this tier 1, energy efficient blade form factor.



The latest additions to our DXM series of PCoIP® Blade Workstations - the DXM630 and the DXM-A. "The DXM Series is now used by thousands of professionals for mission critical applications around the world," commented Keith Grundon, Technical Director with Amulet Hotkey. "This latest addition to the range is the most powerful yet, bringing high performance graphics or PCoIP Hardware Accelerator capabilities to a blade platform." DXM630 Launch options include NVIDIA's K5100M and AMD's S4000X GPU's.



Announced today, the product family includes options for powerful 3D application performance with AMD and NVIDIA GPU variants combined with PCoIP Remote Workstation technology (DXM630), bringing server class reliability and performance to enterprise, defence and engineering markets.  For virtualised environments, the DXM-A variant provides PCoIP hardware offload processing power to significantly improve  the frames per second delivered to the end point while ensuring a consistent user experience at all times



New PCoIP Product Family

New PCoIP Product Family

Based on the Dell® "customer inspired, future ready technology" M630 and supporting up to two, state-of-the art Intel® Xeon™ E5-2600 v3 processors, the DXM630 is one of the most powerful dedicated PCoIP Blade Workstations available.  It delivers a true 64bit workstation OS on server-grade hardware with as many as 36 cores.  Capable of supporting 768GB of DDR4 memory and integrated solid state drives, up to 16 of these high-end workstation blades can be installed in only 10U of rack space. Multiple layers of redundancy for power, cooling and communications in the blade enclosure (the Dell PowerEdge™ M1000e) ensure maximum performance, availability and ease of maintenance. "Dell OEM Solutions has been working with Amulet Hotkey for a number of years, helping to build their solutions on standard Dell platforms delivering stability and performance for their customers. We are delighted Amulet Hotkey has chosen the Dell PowerEdge 13th generation M630 blade server as a platform for their new range of PCoIP and VDI workstation solutions, providing powerful high performance graphics and remote workstation technology to enterprise, defence and engineering markets. We are proud to provide the latest Dell technology solutions for today's remote workers, in a secure environment, also helping to reduce energy consumption." Dermot O'Connell, executive director and general manager, OEM Solutions at Dell.



Amulet Hotkey designs and manufactures innovative solutions for the financial services, defence and commercial sectors. The company has a long standing partnership with Teradici®, the technology leader for creating virtual workspaces.  Teradici PCoIP technology is a key ingredient of Amulet Hotkey's portfolio of remote blade workstations, including zero client devices, remote workstation cards, and PCoIP hardware accelerator.



Integrating PCoIP into the DXM630 allows the entire desktop infrastructure to be located and controlled from a data centre environment. This innovation delivers all the functionality to the actual desk location via private or public network and a stateless PCoIP zero client capable of supporting 4 or even 8 video monitors.  The PCoIP protocol compresses and encrypts the entire computing experience securely in the data centre and transmits it as 'pixels only' over a standard IP network to compatible PCoIP end points for an uncompromised, high-fidelity remote workstation experience, while increasing collaboration, productivity and security.



"With today's news, Amulet Hotkey is expanding its portfolio to meet the industry's most stringent performance requirements for today's graphic-intensive use cases," said Olivier Favre, director of product management at Teradici. "We're delighted with the company's continued commitment to delivering maximum value to a growing base of customers with the introduction of best-in-class products that fully exploit the benefits of PCoIP technology, such as the DXM630 Blade Workstation and DXM-A PCoIP Hardware Accelerator for virtualized workstations in VDI deployments."



Further details

Amulet Hotkey Product Launch Details

Hyperlink:  www.amulethotkey.com/13G



About Amulet Hotkey

Amulet Hotkey's proven architecture provides remote blade workstation solutions to tens of thousands of high end and power users worldwide, be they multiple screen trading positions, command and control systems or specialist defence applications.



Our expertise allows enterprises to simplify and secure the desktop environment without compromise, moving desktop workstations to the data centre or cloud environment.  Using our own Zero Client, PCoIP Hosts and Blade Workstations, we dramatically reduce desktop power consumption and heat generation, minimising cabling and clutter.  In the data centre our solutions maximise space and facilitate central management of desktops, operating systems, policies and security.



Amulet Hotkey actively partners with many leading manufacturers of data centre, cloud and virtualisation technologies, and is instrumental in helping them bring to market solutions for VDI, virtualisation, GPU offload and PCoIP integration and acceleration.



The growth of cloud based services and virtualised environments and the emerging Workstation as a Service (WaaS) model is driving the creation of a truly flexible computing model, the so-called elastic compute architecture. Amulet Hotkey is a recognised leader in providing key enabling technologies in this environment.



Contact for Press

Phil Blades

Amulet Hotkey

T: 01626837900

E: phil.blades@amulethotkey.com 

W: http://www.amulethotkey.com/



Social Media

@amulethotkey

@pcoip_guru

www.linkedin.com/company/amulet-hotkey

www.youtube.com/user/pcoipguru/videos



More from Electrical Equipment & Systems