Blade Workstation has integrated smart card reader.
Press Release Summary: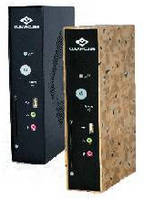 ClearCube I9424 consists of VMware Ready(TM) PCoIP® zero client with integrated smart card reader. Single client suits task and knowledge workers utilizing VMware virtual machines as well as power users connecting to ClearCube PCoIP® blade workstations. Once PCoIP session is established, client allows smart card access to protected resources. Tamper-proof, ruggedized case offers custom color options and port for Kensington lock for additional physical security.
---
Original Press Release:

ClearCube Technology Launches the First PCoIP® Zero Client with Integrated Smart Card Reader



The ClearCube I9424 VMware Ready(TM) Zero Client Delivers Smart Card Capabilities in a Rugged Case

AUSTIN, Texas -- ClearCube Technology, the leader in centralized computing, today announced the launch of the I9424 PCoIP® zero client with integrated smart card reader.

After experiencing firsthand the rapidly increasing demand from federal customers for a VMware Ready(TM) PCoIP® zero client with an integrated Smart Card reader, ClearCube has fulfilled that void in the market and extended its leadership position in virtual and centralized computing. The ClearCube I9424 is a single client that works for task and knowledge workers utilizing VMware virtual machines as well as power users connecting to ClearCube PCoIP® blade workstations resulting in a lower total cost of ownership.

The I9424 zero client allows smart card access to protected resources once the PCoIP session is established. Initiation of the PCoIP session itself via smart card authorization will be supported in the future.

"Governments around the globe have come to rely on ClearCube for secure computing solutions," said Randy Printz, CEO of ClearCube Technology. "They have unique requirements and we work closely with them to fulfill those requirements with innovative solutions like the I9424 VMware Ready(TM) PCoIP® zero client with integrated Smart Card reader."

The ClearCube I9424 is very energy efficient and comes in a tamper-proof rugged case with the option of custom colors and includes a port for a Kensington lock for additional physical security.

For a limited time ClearCube is offering a free test drive of the new I9424. To learn more call 1.866.652.3500 or visit http://www.clearcube.com/centralized-computing-pcoip-vmware-solutions.html.

About ClearCube Technology

ClearCube Technology, Inc. is the pioneer and market leader in centralized and virtual computing hardware and management software. By deploying ClearCube blade solutions and clients, customers have dramatically reduced their support costs while improving the security and availability of their computing infrastructure. U.S. Government Agencies, Mexican Government Agencies, Canadian Government Agencies, the world's largest financial services companies, the world's most advanced health care organizations and educational institutions all rely on ClearCube Blade PCs and Virtual Desktop Solutions for secure, reliable and energy efficient computing. For more information on the I9424 and other ClearCube PCoIP zero clients, visit: http://www.clearcube.com/centralized-computing-pcoip-vmware-solutions.html


More from Material Processing