Blade Sharpener hones all types of dull blades.
Press Release Summary: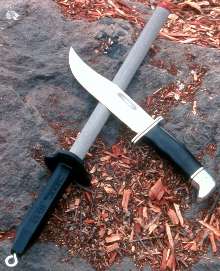 With 72 Rockwell C hardness scale rating, D10F Diamond Oval Sharpener hones blades on scissors, knives, and tools to razor sharpness. Surface incorporates industrial-grade diamonds, heat-bonded in stainless steel alloy that is precision-matched to metal substrate. Measuring 10 in. in length, product has ¾ x ¼ in. cross section and features contoured plastic handle with flared hilt. It is offered with variety of grits and comes with Fine surface.
---
Original Press Release:

Oval Sharpener Makes Short Work of All Dull Blades


Eze-Lap's(TM) Diamond Abrasive D10F Oval Sharpener Excels With Knives, Scissors, Tools - Or Just About Anything That Needs Sharpening

Eze-Lap,(TM) the company that has re-defined sharpening with its innovative line of diamond abrasive products, is proud to offer the compact and versatile D10F Diamond Oval Sharpener. This simple yet versatile device is indispensable in any household, garage, or sporting enthusiast's kit, because it excels equally at sharpening such a wide variety of blades: everything from scissors, to knives and tools, can quickly be honed to razor sharpness with the D10F.

The secret behind the powerful D10F Diamond Oval Sharpener is its surface, made by a unique process which Eze-Lap has both pioneered and patented. In this process, genuine industrial-grade diamonds of the highest quality are heat-bonded in a stainless steel alloy, which is then precision-matched to a metal substrate. Although this process has been imitated by others, it has never been duplicated - and the results of this all-American ingenuity can readily be seen in the performance of the D10F.

Measuring ten inches in length, the D10F Diamond Oval Sharpener has a 3/4"-by-1/4" cross section, and features a contoured plastic handle with a flared hilt to protect the user's fingers during sharpening. Although Eze-Lap offers a variety of grits for its various sharpening devices, the D10F comes with the Fine surface, which, according to the manufacturer, is ideal for about 98 percent of all household sharpening jobs.

"This sharpener is well balanced and easy to use," notes Eze-Lap General Manager Ralph Johnson. "Because the diamond surface has achieved an incredible 72 on the Rockwell C hardness scale, it can hone and polish practically any blade to razor smoothness."

For complete information about the D10F Diamond Oval Sharpener, or any of its other precision sharpening products for knives and tools, contact: Eze-Lap Diamond Products, Inc., P.O. Box 20469, Dept. P Carson City, NV 89721 o Telephone: (775) 888-9500 o Fax: (775) 888-9555 o Or visit www.eze-lap.com.

More from Fluid & Gas Flow Equipment