Black Oxide Finish protects oil/gas drilling components.
Press Release Summary: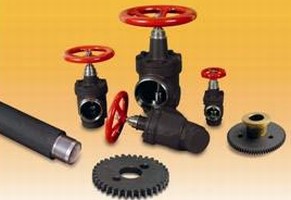 In addition to creating protective barrier against corrosion, TRU TEMP® black oxide finishing process offers break-in lubricity and anti-galling protection. Finish complies with MIL-DTL-13924, Class 1 and withstands 100-300 hr salt spray. Suited for valves, pumps, couplings, packer glands, and associated equipment, process forms non-dimensional, deep black finish; is pollutant-free; and operates at 200°F. Total process time is 25 min.
---
Original Press Release:

TRU TEMP® Low Temp Black Oxide from Birchwood Casey Protects Oil and Gas Drilling Components



Eden Prairie, Minnesota: TRU TEMP® low temp black oxide is a new advancement for protecting critical components used for drilling, production and refining petrochemicals and natural gas. For critical parts in storage or shipment, the TRU TEMP® low temperature finishing process offers break-in lubricity, anti-galling protection and creates a protective barrier against corrosion. The finish complies with MIL-DTL-13924, Class 1 and withstands 100-300 hours salt spray. Its rich black appearance offers sales appeal as well.

For valves, pumps, couplings, packer glands and associated equipment, the TRU TEMP process forms a non-dimensional, deep black finish with long term corrosion resistance. It is ideal for components manufactured to tight tolerances, yet doesn't affect function. Because of its crystalline structure, the TRU TEMP finish has inherent break-in lubricity and galling resistance, thereby serving as a direct replacement for zinc phosphate finishes, but without the hazardous zinc content. This property makes it possible to operate the TRU TEMP process without the need for hazardous waste treatment equipment.

The TRU TEMP process itself operates at low temperature and contains no pollutants. Unlike other hot finishing methods, the TRU TEMP process can be safely operated in-house for ultimate control over quality and turnaround time. Total process time is just 25 minutes, and operating cost (including chemical and heating cost) is just 2 to 3 cents per pound of finished work. Components can be processed on racks or in bulk loads. Most existing tank lines can be retrofitted for TRU TEMP at low cost. New process lines are also available direct from Birchwood Casey in all sizes at modest costs.

A major benefit of the TRU TEMP process is that it operates at only 200°F, eliminating the severe splattering and boilover hazards often experienced with conventional hot (290°F) black oxide finishing. Also, TRU TEMP's mild solutions prevent red coatings and white salt leaching that often plague ordinary black oxide finishes.

The TRU TEMP process contains no metals or other pollutants, so no waste treatment is required. Rinse waters are normally sewerable as non-hazardous discharge. This benefit simplifies the installation and minimizes the capital investment for setting up the process line.

Sample part processing with TRU TEMP is available at No Charge from Birchwood Casey.

Interested in more information? Call 952-937-7931 for Free Brochure. Or write to Birchwood Casey, 7900 Fuller Road, Eden Prairie, Minnesota 55344-9702. Fax: 952-937-7979. Visit the Birchwood Casey website at: www.birchwoodcasey.com Email: info@birchwoodcasey.com

More from Sensors, Monitors & Transducers