Black Multi-Touch Panels integrate COF tail.
Press Release Summary: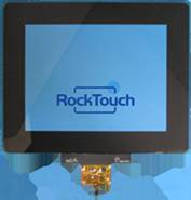 Based on film/film/glass structure, 10.4 in. Series RTPC-104-A uses one film layer for X axis, another film for Y axis, and cover lens on top of LCD. PCAP displays enable 2 fingers for 6 mm cover lenses, 2 fingers for 3 mm cover lenses, and 4 fingers for cover lenses equal to or less than 2 mm thick. Operating from 2.7~3.3 V at temperatures from -20 to 70°C, displays feature active area of 217.96 x 136.6 mm, response time of 35 ms max, and support for USB, I2C, and UART interfaces.
---
Original Press Release:

Black 10.4" Multi -Touch Panel with COF Tail and with Cover Lenses



Microtips Technology is excited to announce our new 10.4" PCAP display. We do have many other options and features; our new line 10.4" PCAP is base on F/F/G structure (film/film/Glass) the ability of using one film layer for the X axis and then another film for the Y axis then the design cover lens is placed on top of the LCD. Our new lines of touch panel enables 2 fingers for 6mm cover lenses, 2 fingers for 3mm cover lenses, 4 fingers for cover lenses equaling or less than 2mm thickness; with either color black or white, furthermore the touch panel displays has an integrations of COF (chip on Flat) to ensure an easy and secure integration for all our new lines of displays, the size of our COF tail is long enough to bend behinds any LCD in the market (we can also customize this if needed). 10.4" Does support the USB, I2C and UART interface has black film for additional EMI protection; you have ability to customize the total of cover lenses including color. Utilizes the EETI controller IC to support most of the OS around.



This form of display has the Cover Lens outline dimensions of 280x202mm, with a sensor active area, including the operation temperature -20 ~ 70 degree Celsius and storage temperature -40 and 80 degrees. Also has film dimension and sensor maximum active area. The mechanical characteristic of this sensor technology has a operating life of 10 to the seventh power. Has a power supply voltage between 2.7V ~ 3.3V with a response time of Max 35ms. The COF has the current consumption below 50mA in active mode (50mA *5.2V = 0.26W) one of the important things I would like to point out about the 10.4" touch panel display is the size of the COF, which weigh in at 1.56mm (max thickness). These new lines of PCAP touch panels are a great way to demonstrate our capabilities for bigger touch panel displays.

Link: http://www.microtipsusa.com



Quick Features:

Part# RTPC-104-A

DOT Matrix 10.4 inches

Overall Area 283 x 202 mm

Active Area 217.96 x 136.6 mm

Interface USB/I2C/UART

Cover Lenses(Thickness) 3mm or 6mm

Display Color Available color –white

Temperature ST: -20~60°C, OT: -10~50°C













More from Thermal & Heating Equipment