Cleaning Compounds and Chemicals
Bitimec Poliall-332 'Mobile' Graffiti Removal System for Train and Railcar Maintenance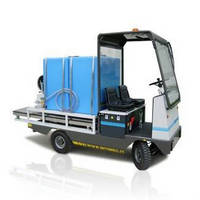 Bitimec's Railway Sector Lines are the outcome of 22 years of design innovation. The ability to conceive, design and manufacture intelligent, economical solutions to customer's needs has grown our railway sector presence worldwide. Utility machines for railcar maintenance are versatile and can be mounted on motorised 48 Volt environment friendly vehicles, or on separate trailers, to be used as needed, able top lug in to the battery power oft he tractors themselves.

Graffiti removal requires extremely aggressive chemicals which are harmful to the environment and need tob e collected and disposed of with extreme care.

The Bitimec Graffiti removal system includes a collapsible collection pans for aggressive graffiti removal liquids. The recovery can be performed on railcars from the track or platform level. The system includes two large holding tanks for fresh water and/or sludge recovery, vacuum suction pump and two light aluminum pans (light enough to be moved deployed and positioned by a single operator). The pans are positioned in a manner to collect all the heavy solvents used to remove graffiti. The used solvents are collected by a activating a vacuum suction hose which can discharge in any one of the two 520L holding tanks. A largi liquid sludge capacity of 1040L allows the system to work on long deployments without interruption.

A NEW trailer mounted version which is able to use the tractor's 48Volt power has recently been completed and will go in full production beginning January 2011.


More from Cleaning Products & Equipment