BitFlow Technology Used to Develop Robotic Inspection System for Auto Parts Maker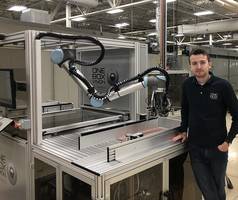 Woburn, MA, December 13, 2019 -- Bitflow has collaborated with engineering firm One Box Vision in developing an automated sheet inspection system for a leading automotive parts manufacturer. BitFlow Axion-CL 2xE frame grabbers are being deployed in the One Box Vision ASIX™ (Automated Sheet Inspection Expert) that incorporates an automated ink marking system for identifying rejects of printed graphics such as those used in dashboards or on automotive electronics, on sheet sizes up to 30 x 40 inches.
Prior to coming to One Box Vision, the manufacturer was facing several challenges. The volume for its high-end automotive parts was rising, while the availability of skilled operators was dropping, therefore making the consistency of inspection an issue. The goal was to design an automated cell that would accelerate the inspection and improve productivity while reducing returns.
To meet the manufacturer's needs, One Box Vision developed ASIX turnkey machine vision solution. It features a collaborative robotic arm for sheet handling and marking, multiple high-resolution color cameras from Chromasens capable of scans at a resolution of 50um, a dual-LED lighting system, and the BitFlow frame grabbers. With a cycle time of only 20 seconds per part, ASIX will scan sheets in both directions to allow for the illumination to be altered highlighting different features of the product under inspection. 
Thanks to the BitFlow Axion-CL 2xE frame grabber, ASIX can deliver one Gigabit of acquired color images per second to the PC. Data from both scans is than analyzed by One Box Vision SheetFlow™ machine vision software in real-time. If a defect is detected by the software it instructs the robotic arm to mark the part for removal. The robot has a vacuum to lift and move the sheets, a sensor to detect stack height, and an industrial marking system to spray defective parts.
In addition to the sheets it was originally developed to inspect, AXIS can handle other substrates from 15 microns to 1.55 millimeters in thickness, such the 100% inspection of plastic film, paper, foil and non-woven substrates.
"Building line scan applications always presents the challenge of knowing how to trigger, synchronize multiple cameras, and then stitch and blend the images," said Connor O'Neill, president of One Box Vision. "BitFlow Axion-CL 2xE frame grabbers have proven to be highly reliable for the task. The StreamSync Direct Memory Access (DMA) engine and buffer manager prevent overloading of the PC's CPU with image transfer operations, while the PCIe Gen 2 expansion bus delivers high-speed access to host memory. The Axion-CL 2xE has worked out very well in the ASIX and other demanding projects we've taken on."
For more information, please call 781-932-2900 or visit www.bitflow.com.
About BitFlow
BitFlow has been developing reliable, high-performance Frame Grabbers for use in imaging applications since 1993. BitFlow is the leader in Camera Link frame grabbers, building the fastest frame grabbers in the world, with the highest camera/frame grabber densities, triggering performance, and price. With thousands of boards installed throughout the world, into hundreds of imaging applications, BitFlow is dedicated to using this knowledge and experience to provide customers with the best possible image acquisition and application development solutions. BitFlow, located in Woburn, MA, has distributors and resellers located all over the world including Asia, the Americas, and Europe. Visit our website at www.bitflow.com.
About One Box Vision
One Box Vision develops and licenses automated machine vision solutions for manufacturing, and has developed a broad portfolio of packages for web and sheet inspection. We work with system integration companies, original equipment manufacturers and corporate engineering teams to design and implement advanced inspection and metro-logy solutions. Our key clients operate in the US, Brazil,UK, Germany India and South East Asia. Feel free to contact One Box Vision at www.oneboxvision.com
Contacts:
Donal Waide
BitFlow, Inc.
781-932-2900 
donal.waide@bitflow.com
Dan O'Connell
O'Connell Communications
708-363-6118
dan@oconnellpr.com
More from Construction Equipment and Supplies