BioSafe Dual-Level Gowning Bench include a seat with footrest.
Press Release Summary: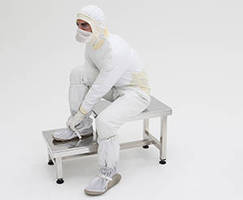 Used for donning cleanroom coveralls, booties and other garb, BioSafe Dual-Level Gowning Bench is fabricated using square-tube electropolished stainless steel that meet ISO 3 standards. Connecting holes facilitate back-to-back attachment and also enables user to manipulate their placement according to protocol, thereby demarcating "clean" and "dirty" zones. Welded with continuous seams, benches can be leveled using non-particulating nylon feet.
---
Original Press Release:
BioSafe® Dual-Level Gowning Bench
Terra Universal introduces their ergonomic Dual-Level Gowning Bench for comfortable donning of cleanroom coveralls, booties and other garb. The bench features a seat with footrest, allowing personnel to perform required gowning in a more natural posture. Benches are made of ultra-clean electropolished stainless steel, meeting cleanliness requirements down to ISO 3.

Connecting holes allow benches to be attached back-to-back. This configuration can be used to create a demarcation of "clean" and "dirty" zones, mandated by some gowning protocols. Edges of the bench are curved for comfort and efficient wipe-down. The bench's frame is made of square-tube electropolished stainless steel, welded with continuous seams that lack hard-to-clean cracks and crevices. The bench can be leveled using the non-particulating nylon feet.
x
Electropolishing removes iron and other surface impurities from steel, removing sources of corrosion. Chromium and nickel within the stainless steel are also drawn to the surface, where they form a hard protective finish. Lastly, the steel's texture becomes ultra-smooth, eliminating the burrs and pits that can trap particles.

Terra Universal has 40 years of experience manufacturing critical-environment furnishings for cleanrooms and gowning rooms. Visit www.TerraUniversal.com for more information about their BioSafe Dual-Level Gowning Bench.

Contact:

Mike Buckwalter
Terra Universal: Marketing
Phone (714) 578-6000
Mike@TerraUniversal.com
More from Machinery & Machining Tools