Biometric Scanners capture fingerprints and palm prints.
Press Release Summary: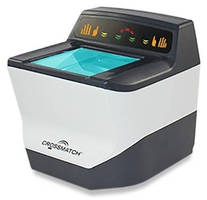 Offering wet and dry fingerprint image capture and icon-based user guidance display, 10-print Guardian® 200 is suited for attended and semi-attended applications where speed and image quality are imperative. L Scan Palm Scanners, available in 500 and 1,000 ppi with USB 3.0 connectivity, deliver rapid finger and palm print capture for criminal identification, forensic analysis, and enrollment. Units acquire upper, lower, and writer's palms, as well as flats, slaps, and rolls.
---
Original Press Release:

Crossmatch Introduces New Guardian Ten-print and L Scan Palm Print Livescan Solutions



TAMPA, Fla. and PALM BEACH GARDENS, Fla., – Crossmatch™, a leading provider of livescan enrollment and multi-factor authentication solutions, announced today during the Global Identity Summit (GIS) the launch of the new Guardian® 200 ten-print scanner and introduction of the latest models of L Scan® palm scanners. These new livescan solutions offer customers highly reliable, rapid capture fingerprint and palm print devices that meet the enrollment needs of government and law enforcement agencies around the world.



With its superior wet and dry fingerprint image capture, lower profile and intuitive icon-based user guidance display, the Guardian 200 is ideal for attended and semi-attended applications where speed and image quality are imperative. The Guardian 200 is well-positioned between the Guardian 300 and the Guardian Module, offering Crossmatch customers a ten-print device to meet their exact needs. The Guardian 300 incorporates unique touch screen-based user guidance and workflow control capabilities. The Guardian Module offers a slim housing and robust SDK for easy and seamless installation into workstations and automated border/passport control (ABC/APC) kiosks, establishing itself as a top choice of integrators.



The latest Crossmatch L Scan palm scanners now offer USB 3.0 connectivity along with industry leading image quality and capture speed. The L Scan line, available in 500 and 1000 ppi, addresses the need for compact, high resolution, rapid finger and palm print capture for criminal identification, forensic analysis and enrollment. L Scan scanners easily acquire upper, lower and writer's palms (hypothenar/ulnar), as well as flats, slaps and rolls. They are fully compliant with FBI standards and support submissions to the National Palm Print System (NPPS).



"As the industry leader in livescan solutions, Crossmatch has worked diligently to build a reputation of trusted performance where it matters most," said Richard Agostinelli, Crossmatch CEO. "Government and law enforcement agencies around the world rely on our livescan solutions to perform in critical applications such as border screening, background check and criminal booking applications."



See our new Guardian and L Scan solutions in booth #201 at the GIS event in Tampa.



About Crossmatch

Crossmatch helps organizations solve their identity management challenges through biometrics. Our enrollment and authentication solutions are trusted to create, validate and manage identities for a wide range of government, law enforcement, financial institution, retail and commercial applications. Our solutions are designed using proven biometric technologies, flexible enrollment and strong multi-factor authentication software, and deep industry expertise. We offer an experienced professional services capability to assess, design, implement and optimize our identity management solutions for a customer's individual challenges. Our products and solutions are utilized by over 200 million people in more than 80 countries. Learn more at www.crossmatch.com.



CONTACT:

Lori Paxton

650-474-4017



[email protected]





Web Site: http://www.crossmatch.com