Biometric Capture System targets APC kiosks and eGates.
Press Release Summary: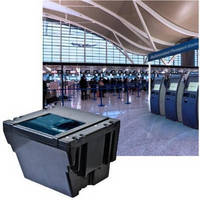 Designed to meet biometric Automated Passport Control (APC) kiosks and eGates needs, Guardian® Module provides biometric capture solution with ten-print technology, middleware, and customizable user guidance interface. Solution, which prompts applicant/user through unattended imaging of their fingerprints (moist or dry) in pictogram-based approach, incorporates Auto Capture and FlexFlat™ features that ensure accelerated, high-quality print capture regardless of finger position on platen.
---
Original Press Release:

Cross Match Introduces Guardian® Module



Designed to meet the needs of biometric APC kiosks and eGates



LONDON -- Cross Match Technologies, the largest independent global provider of biometric identity management solutions, announced the formal launch of the new Guardian(®) Module today at the Security Document World exhibition.  The Guardian Module provides a complete biometric capture solution that includes the latest ten-print technology, biometric middleware and customizable user guidance interface designed to seamlessly integrate with Automated Passport Control (APC) kiosks and eGates.



APCs and eGates are increasingly being deployed by airport authorities to reduce passenger wait times, improve the traveler experience and secure the overall border process.  Airport authorities implementing APC report reducing passport inspection processing times by 89 percent while lowering overall airport wait times by 50 percent.



"The Guardian Module leverages our industry leadership in biometric enrollment and, in particular, our Guardian line of ten-print fingerprint scanner technology and biometric middleware," said Richard Agostinelli, CEO of Cross Match.  "We offer kiosk and eGate integrators the latest fingerprint capture technology packaged in a compact, easily integrated form that is wrapped with our unique user interface for biometric identity capture."



Designed to prompt the applicant/user through an unattended imaging of their fingerprints in a simple, pictogram-based approach, the Guardian Module ensures the highest quality image capture in the shortest amount of time.  The solution incorporates Cross Match's innovative technology that enables imaging of both moist and dry fingers without conditioning of the hand, as well as its patented Auto Capture and FlexFlat(TM) features that ensure rapid high-quality print capture regardless of finger position on the platen.



Cross Match has over 80,000 Guardian family ten-print scanners deployed around the world, with many in very high profile continuous operation applications such as the US VISIT program, Global Entry automated border control kiosks and the UK IDENT program.  The Guardian Module is the company's integrator-ready version of its new Guardian livescan launched in September of 2012.



About Cross Match Technologies

Cross Match Technologies, Inc. is the largest independent provider and leading innovator of biometric identity management solutions to governments, law enforcement agencies, and businesses around the world. For more information on Cross Match and our identity management solutions, visit www.crossmatch.com.



CONTACT: John B. Hinmon, +1 561 493 7401, john.hinmon@crossmatch.com

More from Laboratory and Research Supplies and Equipment