BioFit Fin Sit-stand Garners Clean Room Industry Publication Award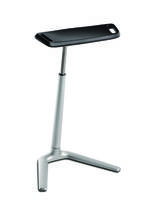 Bowling Green, Ohio (May 10, 2018) BioFit Engineered Products, a globally recognized manufacturer of ergonomic workplace seating solutions, announced today that its Fin sit-stand seating model was named "Best Clean Room Furniture Product" in the fourth annual Controlled Environments Readers' Choice Award competition. The Fin sit-stand is part of the collaborative seating collection developed by BioFit and bimos, of Germany, and is rated for use in ISO 7 clean rooms.
The Fin sit-stand was created for use in clean room, technology, laboratory, educational, healthcare and industrial workplaces. It is designed for tasks requiring extended periods of standing and provides workers with support and ergonomic functionality in applications where sitting down is not an option. The model enables users to redistribute their weight and decrease stress on their legs and feet by up to 60 percent. Earlier this year, it was rated for use in ISO 7 clean rooms. Part of the bimos by BioFit Collection, a collaboration between BioFit and European ergonomic seating leader bimos, the Fin sit-stand features a swiveling polyurethane seat with fingertip-controlled pneumatic height adjustment mounted on a brushed aluminum column inclined at 4 degrees to promote a positive working posture and a stable base with interchangeable glides. Additionally, it has a seat-height adjustment range of 24.5 to 33.5" to accommodate various work surface heights. Like nearly all BioFit seating, it is backed by a 13-year warranty.
"BioFit is proud to be recognized with the Controlled Environments Readers' Choice Award. This achievement is further proof of our commitment to providing high-level seating solutions for today's workers and workplaces," stated BioFit Director of Sales and Marketing, LouAnn Evans. She continued: "We're dedicated to helping workers in numerous professions, and particularly those in technical environments, stay comfortable and perform at their best with products that meet rigid furniture industry and contamination control standards while complementing interior design trends."
Controlled Environments is a digital magazine which reaches a targeted audience of engineers, quality assurance/quality control, management, and design/build professionals in the life sciences, microelectronics, and semiconductor markets, focusing on clean manufacturing in each of these industries. The publication enables professionals working in clean room environments to keep abreast of the latest technologies, products, industry trends, and solutions for all aspects of contamination prevention, detection, and control.
Headquartered in Bowling Green, Ohio, BioFit Engineered Products is an industry-leading manufacturer of LEED® certified ergonomic seating, GREENGUARD certified tables, carts, and specialty products for clean room, static control/ESD, laboratory, healthcare, office, industrial, education, high-tech and custom environments. To learn more about BioFit, visit www.biofit.com, call 800-597-0246 or email biofit@biofit.com.
Related