BioCompatic III meets RoHS2 and REACH standards.
Press Release Summary: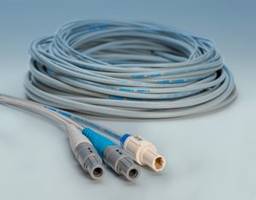 Available in BioCompatic II and BioCompatic III variants, BioCompatic offers robust resistance to chemicals, cuts and abrasion. BioCompatic II is designed with low durometer for ensuring optimal practitioner interaction. Having high durometer and Shore hardness A of 85, BioCompatic III consists of UV resistance. Suitable for medical cable applications, product is free of Pthalates, halogens and Latex.
---
Original Press Release:
Northwire's Next Generation USP Class VI Silicone Alternative Featured at MD&M West Trade Show
Ideal for medical cable applications with stringent requirements, BioCompatic III offers increased capabilities
Innovative cable manufacturer Northwire releases the next generation of BioCompatic, a USP Class VI silicone alternative, at the MD&M West Trade Show on February 7-9.
Presenting design engineers in the medical field with a competitive advantage over those relying on traditional silicone wire and cable, BioCompatic was developed by Northwire as a cost-effective upgrade to silicone without requiring the traditional curing process and subsequently increasing speed to market. With elevated performance improvements over traditional silicone wire and cable, BioCompatic offers robust resistance to chemicals, cuts, and abrasion essential within stringent engineering applications
For the second variant in this product line, Northwire responded to customer requests with a softer and smoother solution by incorporating BioCompatic II featuring a lower durometer, ensuring optimal comfort for patient and practitioner interaction.
Now just released, the next generation BioCompatic III offers the following additional benefits for medical cable and wire applications:
Strongest generation of material in terms of crush and cut resistance
Ideal for medical cable applications with stringent flex-life requirements
Acts as a great insulation material for conductors
Similar or improved dielectric strength and flexibility compared to standard olefins, fluoropolymers, and silicone
Contains UV resistance to accommodate unique applications
Higher durometer
         * Shore Hardness "A" of 85
Obtain additional information by downloading the BioCompatic data sheet http://www.northwire.com/files/6214/8649/5120/BioCompatic_Datasheet_8.5x11_rev_2.compressed.pdf
ISO-10993-5, RoHS2, and REACH compliant, BioCompatic III is free of Phthalates, Halogens, and Latex, and compatible for steam, H2O2, gamma, and ETO sterilization. When partnered with the LEMO REDEL SP Connector's patented latching system, absolute security and a fully integrated connectivity solution is presented for medical, dental and therapeutic applications including patient monitoring cables, endoscopic reusable/sterilized assemblies, catheter applications, imaging cables, diagnostic tools, drug delivery systems, and defibrillation systems.
Northwire cable engineers and LEMO connecter experts will be present to provide additional information and product samples at the MD&M West Trade Show at booth #1955. You can also contact a connectivity expert about your specific application at 800.468.1516, [email protected].
For more information, visit www.northwire.com or https://www.lemo.com/en/original-push-pull-connector
About LEMO
LEMO is an acknowledged leader in the design and manufacture of precision custom connection and cable solutions. LEMO's high quality Push-Pull Connectors are found in a variety of challenging application environments including medical, industrial control, test and measurement, broadcast, and telecommunications.
LEMO has been designing custom connectors for over six decades. Offering more than 100,000 combinations of products that continue to grow through tailored, specific designs, LEMO and its affiliated sister companies REDEL, NORTHWIRE and COELVER currently serve more than 100,000 customers in over 80 countries around the world. In 2014, LEMO Group acquired Northwire, Inc.
About Northwire
Cable manufacturer Northwire, Inc., celebrating over 43 years of innovation, has corporate headquarters and manufacturing in Osceola, Wisconsin and engineering and manufacturing in Santa Teresa, New Mexico. The cable engineering company is the premier partner for the design, manufacture and contract services of custom technical products including custom technical wire and cable, retractable cable, cable assemblies, connectors, harnesses, injection molding, over-molding and contract engineering and OEM (Original Equipment Manufacturer) for diverse applications in broadcast, life sciences, energy, MIL-Spec defense, industrial, machine vision, architectural lighting, underwater and beyond.
In addition to ISO 13485:2003, ISO 9001:2008, SAE AS9100C:2009 certifications and qualification to ISO 17025:2005, Northwire is a member of NDIA (National Defense Industrial Association), NCMA (National Contract Management Association), RIA (Robotics Industries Association), AIA (Automated Imaging Association), FieldComm (fka Foundation Fieldbus), ODVA (Open DeviceNet Vendors Associations) and WAI (Wire Association International), among others.
For more information, visit www.northwire.com