Bio-Based PLA Compounds offer alternative to PS and PP.
Press Release Summary: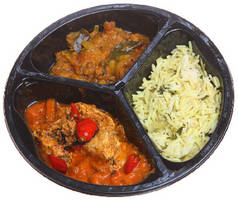 Featuring bio-based content level of 90%, Terraloy® BP-39070 Series is biodegradable, offering alternative to petrochemical-based resins in applications where sustainability and compostability are critical considerations. Typical grade exhibits heat distortion temperature of 100°C and Izod impact strength of 69 J/m. FDA-compliant compounds replace PS and PP in high-heat thermoformed sheet for microwavable frozen food trays, hot beverage cup lids, and carry-out containers.
---
Original Press Release:

High-Heat, Impact-Resistant PLA is High-Biocontent Alternative to PS and PP in Packaging, Food-Service, and Other Thermoformed Applications



FDA-Compliant Terraloy® BP-39070 Can Be Processed at Higher Rates than Standard PLA

PAWTUCKET, RI, U.S.A., - New technology from Teknor Apex Company eliminates a property tradeoff that has prevented polylactic acid (PLA) from serving as a "green" alternative to polystyrene (PS) and polypropylene (PP) in high-heat thermoformed sheet for microwavable frozen food trays, lids for hot beverage cups, and carry-out containers such as those for restaurant food, the company announced today.

New Terraloy® BP-39070 series enhanced-PLA compounds for extrusion and thermoforming have a bio-based content level of around 90% and are biodegradable, making them an effective alternative to petrochemical-based resins in applications where sustainability and compostability are critical considerations. They meet FDA requirement for food-contact applications. Teknor Apex expects the new compounds to meet ASTM specification D-6400 and qualify for Biodegradable Products Institute certification for composting, according to Edwin Tam, manager of new strategic initiatives for the Bioplastics Division of Teknor Apex.

Terraloy BP-39070 compounds are based on innovations by Teknor Apex that have overcome an inverse relationship in standard PLA between heat distortion temperature (HDT) and Izod impact strength. The new products exhibit up to two times the HDT and more than four times the impact strength of standard PLA resins. Previous work to enhance PLA performance beyond standard levels had generated resins with either higher HDT or greater impact strength-but not both in the same grade

The formulations on which the new compounds are based differ from those of Terraloy enhanced-PLA products recently introduced for injection molding. "Teknor Apex has optimized Terraloy BP-39070 for extrusion and thermoforming, building in greater melt strength than is available with standard PLA and providing for a faster crystallization rate," Tam said. "As a result, we expect users of these compounds to achieve higher throughputs in extrusion and benefit from a broader processing window in thermoforming than standard PLA."

In microwavable carry-out containers such as those used for leftover restaurant foods, Terraloy BP-39070 compounds would replace pulped fiber as well as polypropylene. As a replacement for PS in lids for hot beverage containers such as those for coffee, the compounds would be used with cups that typically are themselves compostable.

In property tests, a typical grade in the new series, Terraloy 39070A, exhibits HDT of 100 ºC and Izod impact strength of 69 J/m. By comparison, approximate values for standard extrusion-grade PLA are 55 ºC and 16 J/m.

THE BIOPLASTICS DIVISION OF TEKNOR APEX COMPANY is a custom compounder of plastics derived from renewable resources. Product families include: 1) hybrids that combine thermoplastic starch (TPS) with standard petrochemical-based polymers such as polyolefins or polystyrene; 2) biodegradable or compostable blends of bioplastics such as TPS, PLA, PBAT, and PHA, some of which meet ASTM D-6400 and are listed by the Biodegradable Products Institute; 3) recycled-content hybrids that combine post-industrial or post-consumer polyolefins with TPS; and 4) PLA-based masterbatches that incorporate additives such as impact modifier or melt strength enhancers. Parent company Teknor Apex is one of the world's leading custom compounders of thermoplastics, including vinyls, elastomers, nylons, and color concentrates. Teknor Apex was established in 1924 and is privately held. Headquartered in Pawtucket, RI, U.S.A., it manufactures in the U.S.A., Singapore, China, and the UK and sells in 90 countries. Visit www.teknorapex.com.

FOR MORE INFORMATION: Tel: 1-401-725-8000. Fax: 1-401-724-8520. Email: bioplastics@teknorapex.com

More from Chemicals & Gases