Bi-Metal and Dial Thermometers
Bimetallic Thermometers meet ASME B40.3 standard.
Press Release Summary: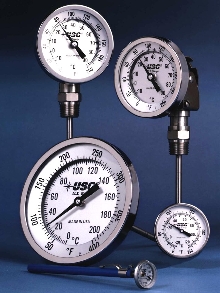 Case, bezel, and threaded connection of Bimetal Thermometers are made of 304 SS, with 316 SS optional. Models are available with stem lengths from 2 1/2 to 12 in., and in sizes of 3, 4, and 5 in. All have dual temperature Fahrenheit/Celsius scales in ranges from 0-200°F and 10-90°C, to 200-1,000°F and 100-550°C. Other products include 2-in. back connected thermometers, 1-in. testing and spot checking thermometers, and Model TW thermowells.
---
Original Press Release:
Ametek U.S. Gauge Offers Line of Bimetallic Thermometers

Broad Range of High-Quality, U.S.-Made Thermometers Now Available

FEASTERVILLE, PA -- AMETEK U.S. Gauge now offers a line of U.S.-made bimetallic thermometers designed and manufactured to quality standards that meet or exceed the American Society of Mechanical Engineers (ASME) B40.3 standard.

The U.S. Gauge Bimetal Thermometers feature:

- Case, bezel and threaded connection of 304 stainless steel standard (316 stainless steel optional)

- True anti-parallax, easy-to-read dial on 3-inch, 4-inch and 5-inch models

- Graduations on dial ring on same plane as pointer to minimize reader error

- Hermetic seal tested to conform to ASME B40.3

- External reset. Calibration adjustment using a hex wrench to discourage inadvertent tampering (Models available without reset)

- Date stamping available for QA tracking


The U.S. Gauge BiMetal Thermometer line includes standard stem lengths from 2-1/2 in. (63mm) to 12 in. (305mm) and dual temperature (Fahrenheit/Celsius) ranges from 0/200°F (-10/90°C) to 200/1000°F (100/550°C.)

The line includes:

3-inch and 5-inch Adjustable Angle Industrial Thermometers, which offer a heavy-duty design and adjustable case and stem (head can be rotated 360° and stem position over 180°). This design is preferred by process, offshore, power, pharmaceutical and chemical industries. Options include variety of connection types and sizes, silicone-filled, and lenses of acrylic, polycarbonate, shatterproof or tempered glass.

3-inch and 5-inch Back Connected Industrial Thermometers, which offer 90° back angle, rear-threaded connection design. This design is commonly-used in industrial pulp and paper, food and beverage processing, HVAC and OEM applications. Options include variety of connections types and sizes, stem diameters, 316 stainless steel wetted parts, NSF-certified, silicone-filled, and lenses of acrylic, polycarbonate, shatterproof and tempered glass.

2-inch Back Connected Industrial Thermometers, smaller size, heavy-duty, rear- connected unit commonly used in OEM equipment and light industrial applications. Options include threaded or plain connections, silicone-filled, acrylic, polycarbonate or tempered glass lens.

1-inch Testing and Spot Checking Thermometers, pocket-sized thermometer that often is modified for OEM use in limited spaces. Options include 0.14-inch diameter, threaded connection for OEM applications, other configurations available.

MODEL TW - General Use Thermowells, recommended for use with a bimetal thermometers for applications involving a corrosive medium, high pressure or high flow velocity. Optional configurations, such as heavy duty, flange, socket weld and Van Stone models, available.

The entire line of bimetallic thermometers is backed by U.S. Gauge's 100-year experience in process measurement. The thermometers are competitively priced and available from U.S. Gauge's worldwide network of authorized distributors.

AMETEK U.S. Gauge is a unit of AMETEK, Inc., a leading global manufacturer of electronic instruments and electric motors with annual sales of more than $1 billion.

For more information on bimetallic thermometers, contact AMETEK U.S. Gauge, 820 Pennsylvania Blvd., Feasterville, PA 19053 USA. Phone: 215-355-6900. Fax: 215- 354-1802. Web site: www.ametekusg.com
More from Machinery & Machining Tools