Bi-Polar LED Bulb suits multiple-voltage applications.
Press Release Summary: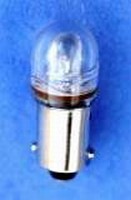 Designed to replace 5/6, 12/14, 24, 28, and 48 V incandescent bulbs, LDR-BS-6/48V comes in T 3¼ (9 mm) bayonet base that mounts directly into industry-standard sockets. Bi-polar nature eliminates lead polarity as factor of consideration for installation, and solid-state design is impervious to shock, vibration, frequent switching, and environmental extremes. Bulb operates at standard voltages of 6-48 Vdc and produces 6,500 MCD of brightness with viewing angle of 40°.
---
Original Press Release:

Bright Bi-Polar 9mm Single-LED Bulb for Multiple Voltage Applications



TORRANCE, CA: LEDdealer announces it's Smart, Multiple Voltage, Bi-Polar LDR-BS-6/48V 9mm Miniature Bayonet Based LED Bulb.

This ultra versatile bulb is designed to replace many ordinary incandescent bulbs. This 9mm bayonet base LED bulb so 'smart' and perfectly adaptable in its functionality for a broad range of voltages.

This bipolar LED bulb is designed to directly replace 6MB, 44, 47, 755 (5/6V) 12MB, 756 (12/14V) 24MB (24V) 313, 757, 1819, 1829 (28V), and 48MB (48V) incandescent bulbs. This Smart LED bulb comes in a T 3 ¼ bayonet base that mounts directly into industry standard sockets making it perfect for panel-mount switch-gear applications such as elevators, utility plants, water treatment plants, aviation or anyplace where multiple voltages indicators are used.

Now all those applications that used to require different voltage bulbs can now be supported with one great LED bulb. Since the Smart LED Bulb is Bi-Polar, the polarity of the positive and negative lead is no longer a factor. Add this bulb into your application without worrying about matching up the correct polarities because this LED bulb works in either way. Operating at standard voltages of 6V all the way up to 48V DC, this LED bulb will shine brightly at 6500 MCD with a viewing angle of 40°!

Solid-state design renders LEDs impervious to shock, vibration, frequent switching, and environmental extremes. With an average life span of 100,000-plus hours (11 years), LED lamps operate more than 20 times longer than the equivalent incandescent lamp. Savings from reduced maintenance costs and downtime.

LED lamps produce almost no heat and require 80% - 90% less operating power than equivalent incandescents, making them as friendly to the environment as they are to the operating budget.

Price for Smart LDR-BS-6/48V 9mm Miniature Bayonet LED Bulb is just right, with NO minimum order quantity and large quantity discounts also available. All are products are readily available and in stock - waiting to ship for your special requirements. For additional information, e-mail us: info@leddealer.com or Visit our website at www.leddealer.com.

Bi-Polar LDR-BS-6/48V 9mm Miniature Bayonet Based LED Bulb datasheet is available online. URL: www.leddealer.com/newproducts.html

Related