Bi-Polar Bayonet LED Bulb replaces incandescents.
Press Release Summary: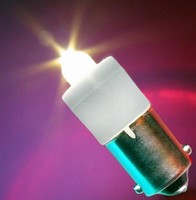 Smart B321-XIW comes in 9 mm T 3¼ bayonet base that mounts directly into industry standard sockets and is designed for panel-mount switch-gear applications where multiple voltages indicators are used. Operating at standard voltages of 6-48 Vdc, bulb will shine brightly at 6,500 mcd and has viewing angle of 40°. Solid-state design is impervious to shock, vibration, frequent switching, and environmental extremes. Average life is rated at 100,000+ hr.
---
Original Press Release:

Smart 9mm B321-XIW Bi-Polar Bayonet LED Bulb Supports 6 DC to 48 DC Voltage Ranges. a Perfect LED Bulb for Multiple Voltage Applications



TORRANCE, CA - November 28, 2006 - LEDtronics® announces it's Smart, Multiple Voltage, Bi-Polar B321-XIW 9mm Miniature Bayonet Based LED Bulb. This is an ultra versatile bulb designed to replace many ordinary incandescent bulbs. What makes this 9mm bayonet base LED bulb so 'smart' and so adaptable is its functionality in a broad range of voltages. Furthermore, this LED bulb is bipolar. It was designed to directly replace 6MB, 44, 47, 755 (5/6V) 12MB, 756 (12/14V) 24MB (24V) 313, 757, 1819, 1829 (28V), and 48MB (48V) incandescent bulbs! This Smart B321-XIW LED bulb comes in a T 3 ¼ bayonet base that mounts directly into industry standard sockets making it perfect for panel-mount switch-gear applications such as elevators, utility plants, water treatment plants, aviation or anyplace where multiple voltages indicators are used. Now all those applications that used to require different voltage bulbs can now be supported with one great LED bulb!

Since the Smart B321 is Bi-Polar, the polarity of the positive and negative lead is no longer a factor. Add this bulb into your application without worrying about matching up the correct polarities because this LED bulb works in either way! Operating at standard voltages of 6V all the way up to 48V DC, this LED bulb will shine brightly at 6500 MCD with a viewing angle of 40°!

Solid-state design renders LEDs impervious to shock, vibration, frequent switching, and environmental extremes. With an average life span of 100,000-plus hours (11 years), LED lamps operate more than 20 times longer than the equivalent incandescent lamp! Savings from reduced maintenance costs and downtime quickly return the capital investment expenditure! LED lamps produce almost no heat and require 80% - 90% less operating power than equivalent incandescents, making them as friendly to the environment as they are to the operating budget.

Founded in 1983, LEDtronics leads where others only follow when it comes to designing, manufacturing and packaging state-of-the-art LEDs to meet the world's constantly changing lighting needs. Our inventive product line encompasses an array of direct incandescent lamp replacement Based LEDs, low-cost snap-in and relampable Panel Mount LEDs, high intensity sunlight-visible Discrete LEDs, PCB LEDs circuit board status indicators, surface mount diodes SMT LEDs, full-spectrum rainbow RGB LEDs and Infra-Red (IR) LEDs.

Price for Smart B321 9mm Miniature Bayonet LED Bulb is $9.70 each, with minimum order quantity of 5. Large quantity discounts are available. Availability is stock to 4 - 6 weeks for special requirements. B321 lamps carry a 3-year limited warranty. For additional information on how to incorporate LED light bulbs into your product designs, contact LEDtronics toll free at 1-800-579-4875, telephone 310-534-1505, fax at 310-534-1424, e-mail at webmaster@ledtronics.com or mail at LEDtronics Inc., 23105 Kashiwa Court, Torrance, CA 90505. Visit our website at ledtronics.com.

Read the datasheet on line at URL: http://ledtronics.com/ds/b321/

More from Agricultural & Farming Products