BGA Inspection System provides built-in light source.
Press Release Summary: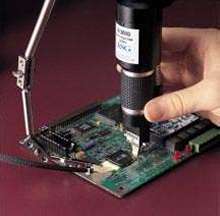 With resolution of 330 x 350 lines, Series IS-1000 video inspection system provides non-destructive method of visually inspecting hidden solder joints. Model IS-1000H system provides 130x magnification for detailed inspection of outermost components. Suited for internal inspection of BGA components, IS-1000L system has 70x magnification. Model IS-1000X provides adjustable magnification from 70-140x. Series can be used with x-ray inspection systems.
---
Original Press Release:
New Series of BGA Video Inspection Systems Announced
BGA Inspection Has Never Been More Affordable; Built-in Light Source Reduces System Cost CLEVELAND, OH - November 14, 2002- ASG, a Division of Jergens, Inc., has announced a family of three new BGA inspection systems. ASG is located at 15700 S. Waterloo Rd., Cleveland, OH 44110. Telephone (216) 486-6163 Fax (216) 481-4519. Inquiries should be directed to Matt Schron. E-mail: asginfo@asg-jergens.com o Web: www.asg-jergens.com ASG's new IS-1000 line of video inspection systems provides a non-destructive method of visually inspecting hidden solder joints. They can aid in the reduction of field failures, while catching defects that other tests cannot reliably detect. Three systems are available. All employ an innovative built-in LED light source, which provides high quality images of surface mounted components. For Underboard components or BGA fault identification, an optional fiber optic backlight is available, which provides the ability to inspect up to eight or nine balls from the edge of a BGA. The IS-1000H system provides 130X magnification, which allows for a detailed inspection of the outermost components. The IS-1000L system has a 70X magnification, providing greater focal length for internal inspection of BGA components. Combining the benefits of each is the IS-1000X which provides an adjustable magnification from 70-140X. Resolution is 330 lines x 350 lines for all three. IS-1000 Systems can be used as an alternative to, or in conjunction with, conventional x-ray inspection systems. Unlike traditional x-ray systems, however, they allow the operator to confirm solder ball shape, micro cracking, excess flux, surface defects, abnormalities, voids, cleanliness, bridging and other soldering defects on BGA components. In addition to BGA solder evaluations, the systems are also well-suited for the inspection of micro BGAs, QFPs, flip chips, J-leads, stencils, solder paste and wire bonder. All IS-1000 Video Inspection Systems can work in conjunction with ASG's video capture and measurement software. This allows inspectors to confirm ball diameter, ball pitches, and other requirements to meet tile manufacturer's specifications. Images can be viewed on a computer in real time for printing, e-mailing, archival and retrieval applications. 15700 South Waterloo Road o Cleveland, Ohio 44110-3898 o U.S.A. Phone: (216) 486-6163 o Fax: (216) 481-4519 o Web: www.asg-jergens.com
More from Portable Tools