Better Protection Long Range 30 Meter Perimeter Guards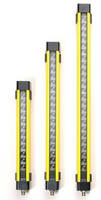 Tapeswitch just released a new series of Perimeter Guards designed for safety and security applications. This new guard provides a higher resolution (100mm) over our standard line of perimeter guards (two, three and four beams), with a maximum range of 30 meters.

These new perimeter guards are available in all three series of Tapeswitch light curtains, (B, GS120, and GS140) with protection lengths of 300mm, 600mm, 900mm, 1200mm, and 1800mm.

All of these products and more can be found in the 2010 Tapeswitch Light Curtain Catalog.

For additional information call 1-800-234-8273 to review your requirements with a Tapeswitch application engineer.

About Tapeswitch

For the past 50 years, Tapeswitch Corporation (www.tapeswitch.com) has been a major player in the development and manufacturing of sensors for safety applications, and currently has the widest range of safety mat, sensing edges, bumpers and light curtain products available anywhere in the marketplace. In addition to these products, Tapeswitch now carries trapped key and non contact safety interlocks.

More from Machinery & Machining Tools