Berg Engineering & Sales Launches SonoDur3 with Reliable and UCI Hardness Testing Solution
Press Release Summary: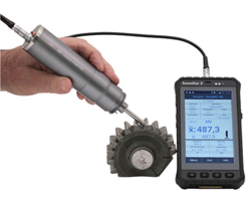 Can assess ASTM A 1038 and DIN 50159 standards using rapid hardness measurements via a 136° Vickers diamond
Classified as NDT and the testing range is 10-1999HV
Uses the Ultrasonic Contact Impedance Technology to deliver direct and reliable hardness
---
Original Press Release:
Latest UCI Hardness Tester Released – Distributed in US by Berg Engineering
The SonoDur 3 offers the most advanced, reliable and complete UCI hardness testing solution since the GE MIC 10/MIC 20. Packed into this 3rd generation hardness tester are features like advanced data management, the latest OS and wireless connectivity. Meets ASTM A 1038 and DIN 50159 standards.
ROLLING MEADOWS, Ill. (PRWEB) June 10, 2019 -- Berg Engineering & Sales, Company Inc., specializing in nondestructive and material testing equipment since 1969, has launched sales of the latest innovative digital UCI hardness tester, the SonoDur3. The SonoDur3 by NewSonic represents the cutting edge of portable hardness testing technology. The SonoDur 3 uses Ultrasonic Contact Impedance Technology to deliver instant and reliable hardness results on difficult to reach surfaces. It is a 3rd generation tool that is built on the successes of previous models and is backward compatible with all previous SonoDur generation stands and probes.
The SonoDur 3 works with a suite of over 18 different probes with test forces ranging from 1N to 98N, making it the most universal UCI hardness testing solution available. Along with the latest OS system, it allows for simple downloads and statistical data management. SonoDur 3 is a natural replacement for the now discontinued MIC 10 and MIC 20 UCI hardness testers. The new system makes the transition seamless with an intuitive interface and touchscreen as well as with the latest available technologies in storage and wireless data transfer.
According to Stephen Berg, CEO of Berg Engineering, "Simply put, with the launch of the SonoDur 3, NewSonic took the best, reliable UCI hardness testers in the MIC 10 and MIC 20 and made them better."
Using rapid hardness measurements via a 136° Vickers diamond, the SonoDur 3 will help you assess whether or not your parts meet your hardness quality assurance standards.
Meets ASTM A 1038 and DIN 50159 standards
Android operating system and Bluetooth/WLAN wireless data transfer
Complete family of probes and stands tailored to specific parts/applications
Is the recommended method for thin samples
Wide testing range (10-1999HV)
Classified as NDT
About Berg Engineering
Berg Engineering & Sales Company, Inc., a privately-held company based in Rolling Meadows, IL, provides sales and service to the nondestructive testing, material testing and electrical testing equipment industries. Berg Engineering's products facilitate inspections to improve cost, productivity and the quality of their customers' products. Brands distributed and serviced by Berg Engineering include Buehler, Magnaflux, Wilson, NewSonic, Synergys, CorDEX, Zetec and many more. The company has been in business for over 50 years.
Contact Information
Marketing
Berg Engineering
http://https://www.bergeng.com
+1 847-577-3980
More from Controls & Controllers