Bendheim Architectural Glass Wins Multiple Product Innovation & Design Awards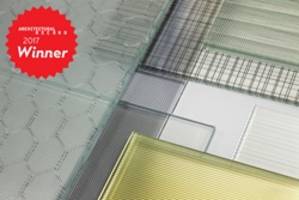 Bendheim is the proud recipient of multiple industry awards this year. Bendheim's Decorative Glass Rainscreens, VintageWire™ glass, and Houdini™ Unlocked Collection were all named winners between Architectural Products' PIA Awards and Architectural Record's Record Product awards.
Bendheim's Decorative Glass Rainscreens and VintageWire™ architectural glass are recipients of this year's Architectural Products' PIA Awards. In addition, the company's Houdini™ Unlocked Collection garnered an award from Architectural Record magazine. These awards attest to Bendheim's ability to deliver innovative products by way of collaboration with leading architects and designers.
Recognized for its ability to provide high levels of visual and acoustic privacy, Bendheim's Houdini Unlocked architectural glass won in Architectural Record's Best Windows, Doors & Openings category. Houdini's fine linear texture allows daylight to shine through, while optically obscuring the shapes of people and objects from view. The glass is recognized as a cost-effective alternative to complex daylight control devices, and is available in hundreds of colors.
Bendheim's decorative glass rainscreen systems are designed to completely transform a building's façade, while providing protection against the elements. Architectural Products magazine recognized the systems with a special citation for their role in a "successful Silicon Valley facelift." According to the judges, the glass rainscreen was "simply impressive in transforming the look of the existing building stock and bringing it to re-use and making it a desirable property in the 21st century."
Bendheim's VintageWire™ Chicken Wire Glass won the PIA award for specialty glazing. The laminated safety glass is an excellent choice for historic renovation and reproduction projects, as well as contemporary environments with a retro-chic vibe. This glass is available in translucent forms for partitions and enclosures, as well as opaque forms for wall cladding applications.
Bendheim is proud to be a recipient of these design awards, having celebrated its 90th year as one of the world's foremost resources for specialty architectural glass. The fourth-generation, family-owned company continues to introduce new products inspired by its work with world-renowned architects, interior designers, fashion houses, and global brands. For more information, please visit https://bendheim.com/.
More from Electrical Equipment & Systems