Benchtop Structures organize and optimize space usage.
Press Release Summary: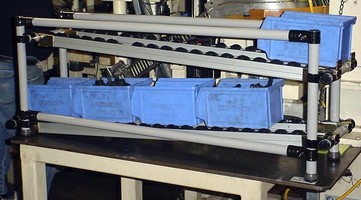 Kaizen structures - comprised of plastic-coated steel pipes, mechanical joints, and hardware accessories - sit atop and rise above existing work surface to adds more storage area while optimizing organization. In addition to presenting and compartmentalizing parts for picking, stowing tools, pre-staging packing materials, structures can be used for displaying instructions/materials lists, adding guarding/shielding to process surroundings, and flowing components to assembly points.
---
Original Press Release:

Maximize Bench Top Performance



Cluttered table tops...messy workbenches...workstations in disarray. Horizontal work surfaces in today's work places can quickly become gathering points for disorganization, confusion, errors and inefficient performance. Until now. From Creform® Corporation (Greer, SC) comes a new 'Kaizen' strategy, an economical option to achieve continuous improvement by maximizing storage space, work areas, and organizational efficiencies of processes, components, and tools.

Using its Creform® System, the company has developed a series of structure concepts specifically sized and designed to work in concert with existing workbenches and tables, to sit atop and rise above the work surface. The concept adds more storage area, presents and compartmentalizes parts for picking, flows components to assembly points, stows tools, pre-stages packing materials, displays instructions or materials lists, incorporates lighting, or even adds guarding or shielding to process surroundings.

With the Creform System, a series of plastic-coated steel pipes, mechanical joints and hardware accessories, the compact bench top structures can be custom designed and built to meet specific application needs. These structures take advantage of the space available, to incorporate structures around existing production equipment, and to ergonomically improve safety and productivity by putting supplies and tools within close proximity to associates. The structures are typically lightweight to promote easy removal for equipment maintenance and housekeeping duties and, depending upon application needs and safety, can be attached to the work surface or rest freely on bench or table surfaces.

To further bolster storage space, structures may be designed to overhang the bench top on the ends or over the back, if properly supported. It is also possible to build flow lanes to gravity- feed production parts from one station to another. Incorporating correct sizing, railing and conveyor sections (skatewheel or full-width roller styles available) parts can be transferred with or without the use of totes.

The compact, bench-top Creform structures are also an ideal method to enhance material handling and inventory control by integrating small bin and tote flow into existing work bench and process operations. By building simple gravity-feed flow racks that direct parts from outside the work area, there are ample approach areas for material handling staff to deliver parts, and unimpeded access for the processor, assembly associate, or machine operator at the work station. If beneficial to the application, such flow rack units may also include a return lane for channeling empty containers outward to the material handling load/unload point. These types of gravity flow structures support FIFO inventory along with batch/run tracking.

The adaptability of the Creform System plus simple design and construction parameters for its use are key elements to its economy and flexibility. Pipe sections are easily cut to required length(s) while joints, either fastener-tightened metal or adhesive-welded plastic, are offered in a wide range of configurations. Hardware items such as hinges, hangers, latches, stops, leveling feet, clamps, label holders, Pick Lights and more facilitate customization.

Creform components are also used to build full size structures including carts, work tables and workstations. In addition, Creform offers simple, easy-to-install Automated Guided Vehicle systems for efficient material handling.

Creform Corporation also offers design assistance and assembly service for structures and partners with customers in developing their lean manufacturing programs.

Visit www.creform.com for additional information regarding Creform Corporation, its products and applications.

More from Electrical Equipment & Systems