Benchtop Detergent Tester features space-saving design.
Press Release Summary: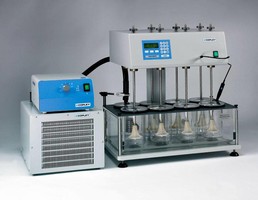 Combining 8 miniature washing machine simulators in single unit, Tergotometer, through programmable user interface, can be set for agitation range of 50-200 rpm and electronically calibrated temperature range from ambient to 70°C. Agitation speed and temperature are managed and monitored during testing via digital display, with facility to generate printed report. Minimum temperature capabilities can be extended to below ambient by adding refrigeration unit.
---
Original Press Release:

Improved Laboratory Testing for Whiter Whites - Unique Benchtop Detergent Tester from Copley Scientific



10 September 2008: Nottingham, UK: Detergent testing is fundamental to product development within the highly competitive field of cleaning solutions. With the new Tergotometer detergent tester, Copley Scientific (Nottingham, UK), combines eight miniature washing machine simulators within a single, benchtop instrument. This unique, space-saving system offers increased testing capacity and improved control over test variables at a fraction of the cost of traditional equipment.

Tergotometers are used to evaluate detergency values by washing standardised soiled fabrics. Measurements are taken to determine the amount of soil removed by recording the material's reflectance before and after the washing process. The scaled down test environment offered by the Tergotometer minimises the quantity of high-value detergent required during development and QC processes, whilst maximizing accuracy and throughput in a laboratory environment.

Through its simple programmable user interface, the Tergotometer can be set for an agitation range of 50-200 rpm and an electronically calibrated temperature range from ambient to 70°C. Agitation speed and temperature are managed and monitored during testing via the digital display, with the facility to generate a printed report. The addition of a refrigeration unit extends the instrument's minimum temperature capabilities to below ambient, if required. A special modification that enables reversed rotation is also available as an option.

About Copley Scientific
Copley Scientific is recognised as the world's leading manufacturer of inhaler test equipment and is a major supplier of test equipment for pharmaceutical solid dosage forms, including tablet dissolution, disintegration, friability, hardness and powder testers. The company has offices in the UK and Switzerland and a partnership with aerosol particle science experts MSP Corporation in the US. Copley's broad range of testing products for metered-dose inhalers, dry powder inhalers, nebulizers and nasal sprays are supplied and supported worldwide through close relationships with specialist distributors. Serving the pharmaceutical and associated industries, Copley offers an extensive range of equipment for research, production, clinical trials and quality control, as well as full validation and aftersales service, providing a single source for products that meet individual needs.

For further information on the Tergotometer or other products from Copley Scientific, please visit: www.copleyscientific.com

Related