Benchtop Centrifuge has 3 liter capacity.
Press Release Summary: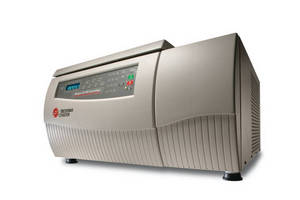 Offered in refrigerated or constant-temperature models, Allegra X-14 accepts variety of tubes and adapters to meet needs of range of applications. With fixed-angle rotor, max speed is 10,200 rpm and rcf is 11,400 X g, and with swinging-bucket rotor max speed is 4,300 rpm and rcf is 4,300 X g. Depending on rotor and labware, X-14 can process up to 148 tubes/cycle. Refrigerated model offers a temperature range of 2-40°C and constant-temperature model is pre-set to 20°C.
---
Original Press Release:

Beckman Coulter Announces the Allegra X-14 High-Throughput Centrifuge



120-V, Three-liter Refrigerated or Constant-Temperature Models Boost Reliable Lab Performance



BREA, CALIF. — The Allegra X-14, a new three-liter benchtop centrifuge from Beckman Coulter, Inc., accepts a variety of tubes and adapters to provide reliable performance in a range of applications. Refrigerated and constant-temperature models are offered individually or in pre-bundled packages that provide everything needed for quick set-up in the laboratory.



With a fixed-angle rotor, the X-14 provides a maximum speed of 10,200 rpm and delivers rcf of 11,400 X g. Swinging-bucket rotors can achieve a maximum speed of 4,300 rpm and rcf of 4,300 X g and, utilizing a wide selection of tubes, bottles and plates, accommodate a range of sample types and volumes. Depending on rotor and labware, the Allegra X-14 can process as many as 148 tubes per cycle.



The refrigerated model offers a temperature range of 2 to 40°C, and features a robust cooling system that brings samples from room temperature to 4°C in less than four minutes, reducing wait time and enabling runs to be processed efficiently. The constant-temperature model is pre-set to 20°C.



Allegra X-14 series units can be equipped with exclusive ARIES Smart Balance rotor technology, which automatically detects and corrects sample-load imbalances of up to 50 grams. This saves time by easing sample prep requirements, eliminating mid-run interruptions and reducing wear by correcting imbalances before damage can occur.



"The Allegra X-14 provides scientists with a versatile benchtop centrifuge that is able to process a variety of sample types and handle them with speed and accuracy," said David Rolwing, Beckman Coulter Centrifugation product manager. "These instruments provide productivity and safety and are an important extension to the successful Allegra benchtop centrifuge line."



Beckman Coulter offers the centrifuges with pre-bundled rotor and adapter combinations in application packages for cell culture, microplate runs, blood sample processing and work with hazardous samples. Additionally, *BioCertified rotors, covers and canisters are tested to ensure that potentially harmful aerosols are contained.



About Beckman Coulter



Beckman Coulter, Inc., based in Orange County, Calif., develops, manufactures and markets products that simplify, automate and innovate complex biomedical tests. More than 275,000 Beckman Coulter systems operate in laboratories around the world, supplying critical information for improving patient health and reducing the cost of care. Recurring revenue, consisting of consumable supplies (including reagent test kits), service and operating-type lease payments, represents about 80 percent of the company's 2010 revenue of $3.7 billion. For more information, visit www.beckmancoulter.com.



*BioCertified is a term used to describe our products which have been tested and validated to demonstrate containment of microbiological aerosols by an independent, third-party facility (Health Protection Agency, Porton Down, UK or USAMRIID, Ft. Detrick, MD, USA). Improper use or maintenance may affect seal integrity and, thus, containment.



Beckman Coulter, the stylized logo and Allegra are trademarks of Beckman Coulter, Inc. and are registered with the USPTO.

More from Chemicals & Gases