Bench Grinder performs sanding and polishing tasks.
Press Release Summary: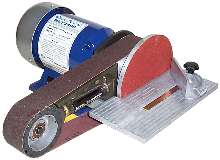 Model MLT3400 Belt and Disc Sanding Machine Tool roughens and fine finishes while sharpening and shaping various materials. Unit is equipped with belt that adjusts horizontally and vertically, allowing for finish into sharp corners. Adjustable, detachable miter table provides precise measurements. Sanding is accomplished through rubber contact wheel, free 100-grit belt, or free 80-grit disc. Offerings include ¾ hp brushless motor and 120 V cooling fan.
---
Original Press Release:
Snap-on Belt and Disc Sanding Machine Tool Sands Quickly and Accurately
Numerous belt positions and sanding types available for clean finish on a host of materials KENOSHA, Wis., Apr. 14, 2003 - The bench grinder of the future has arrived with Snap-on Tools Company's MLT3400 Belt and Disc Sanding Machine Tool, a multi-use, one-of-a-kind piece of equipment that delivers high-quality performance for a variety of sanding and polishing tasks. The unit offers users the complete package fast roughing and fine finishing while sharpening and shaping a variety of materials including metals, fibers, glass, rubber, leather, ceramics, stone, plastic and wood. The MLT3400 offers a versatile belt that adjusts horizontally, vertically and every position in between for convenience and precise results. The belt's running position adjusts easily, offering the unit accurate tracking and allowing for finish into sharp corners. An adjustable and detachable miter table offers precise measurements. Operators can sand in a variety of ways, including through a rubber contact wheel, free belt or free disc. The quick- change, 100-grit belt and 80-grit disc are standard with the MLT3400 and offer users immediate sanding ability. The optional 3MScotchbrite® finishing and polishing belts are just some of the accessories that can be added to make the MLT3400 even more versatile. Four grades of belts are available for gasket removal. A full range of sanding and polishing accessories are compatible with the unit, including various rouge compound bars for polishing, stick disks for sanding and a full range of aluminum oxide belts from 24 to 600 grit for finishing purposes. A brushless motor and cooling fan are two features that help make the MLT3400 a durable, all- purpose sander. The 3/4 horsepower brushless motor provides fast finishes and enables maintenance-free electrical internals for the unit. A 120-volt cooling fan reduces motor heat, increasing the life of the unit. This also allows for continual use of the MLT3400, making the product ideal for industrial applications. The MLT3400 is constructed with sealed ball bearings and industrial black finish. Its small size saves space on the workbench or floor and its design fits most popular grinder pedestals. The MLT3400 comes with a 36-month limited warranty and support from Snap-on's Tech Support line at 800-858-9998, offering reliability and assistance for any sanding job. Customers can find out more about the product by contacting their local Snap-on representative, visiting www.snapon.com or calling 877-762-7662. Snap-on Tools Company is a subsidiary of Snap-on Incorporated, a leading global developer, manufacturer and marketer of tool and equipment solutions for professional tool users. Product lines include hand and power tools, diagnostics and shop equipment, tool storage products, diagnostics software and other solutions for transportation service, industrial, government, education, agricultural and other commercial applications, including construction and electrical. Products are sold through its franchisee dealer vans, distributor channels and company direct sales, including snapon.com. Founded in 1920, Snap-on Tools is a $2+ billion, S&P 500 company headquartered in Kenosha, Wis., and employs approximately 13,100 worldwide.
More from Sensors, Monitors & Transducers