Belt Sander and Disc Sander Shields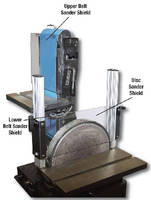 Rockford, Illinois - Rockford Systems, Inc. has the answer on how to protect belt sander and/or disc sander operators. High-quality, adjustable belt sander and disc sander shields are now available. These shields place a barrier between an operator and flying debris generated at the point of operation. They fasten directly to the machine using 1" x 2" extruded aluminum with mounting hardware included. The transparent portion of the shield is constructed of high-impact-resistant, 3/16"-thick clear polycarbonate. Easy vertical adjustment of the shields is achieved simply by loosening and tightening the black knobs.

For further information, please write, call or fax Rockford Systems, Inc., P. O. Box 5525, Rockford, IL 61125-0525, Phone: 1-800-922-7533, Fax: 815-874-6144,
Web Site: www.rockfordsystems.com, E-Mail: sales@rockfordsystems.com.

More from Health, Medical, & Dental Supplies and Equipment