Belt Conveyors feature rotatable drives.
Press Release Summary: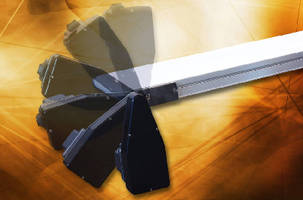 Featuring low-profile design, Automation Series Conveyors have Pivot rotatable drives that can be positioned to avoid product on conveyor belt or obstructions caused by integrated machines. To change position, users loosen 2 set screws, rotate drive, and retighten screws. Timing belt inside guard transfers torque from motor to conveyor's drive pulley. Capable of belt speeds up to 400 fpm, Pivot drive package is compatible with any QC Industries ac or dc gearmotors.
---
Original Press Release:

Pivot(TM) Drive Rotates to Almost Any Position



Cincinnati, OH - QC Industries' new Automation Series low profile belt conveyors offer Pivot rotatable drives that can be quickly and easily rotated to almost any position as application requirements change.

Pivot drives can be positioned to avoid product on the conveyor belt or obstructions caused by integrated machines. When necessary, the drive can be rotated to a new position simply by loosening two set screws, rotating the drive and retightening the screws. A knurled collar locks the drive into the desired position.

When the Pivot drive is rotated below the conveyor, the belt is the highest point on the conveyor, allowing overhanging product to pass easily across the entire length of the conveyor.

A timing belt inside the guard transfers torque from the motor to the conveyor's drive pulley. The Pivot drive package is compatible with any standard QC Industries AC or DC gearmotor, including compact and quiet brushless DC motors. They are capable of belt speeds up to 400 feet per minute.

Pivot drives are available on any AS40 End Drive and are compatible with all standard QC Industries side rails and guides and with both flat and v-guided belts.

QC Industries' low profile belt conveyors are used in a wide variety of applications including packaging, automation, assembly, medical product and device manufacturing, material handling, manufacturing, and more.

Privately held QC Industries is a lean manufacturer and leading builder of low profile belt conveyors based in Cincinnati, Ohio. For more information on QC Industries products or services, visit them online at www.qcindustries.com. You may also reach them via e-mail at sales@qcindustries.com, via phone at (513) 753-6000, or through the mail at QC Industries LLC, 4057 Clough Woods Drive, Cincinnati, OH 45103.

Contact:

Chris Thompson, Marketing Coordinator or

Chris Round, Marketing Manager

QC Industries Conveyors

4057 Clough Woods Dr.

Batavia, OH 45103

(513) 753-6000

Fax: (513) 753-6001

More from Electrical Equipment & Systems