Bellows Coupling features zero backlash.
Press Release Summary: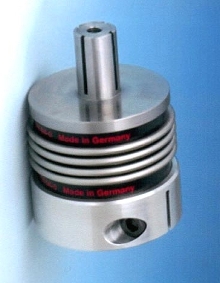 BK7 Bellow Coupling mounts to hollow bores with expanding tapered clamping element. Stainless steel bellow compensates for axial, angular, and lateral misalignment simultaneously. Coupling hubs are custom bored and accommodate shaft diameters from 0.12 to 2.36 in. Expanding hub accommodates bores from 0.31 to 2.36 in. Sizes are available for torque capacities ranging from 133 to 2,655 lb-in.
---
Original Press Release:
High Precision bellows couplings Series Bk7

Taking up the challenge for greater demands in modern machine design and construction, R+W has developed its BK7 series of Bellow Couplings.

This unique coupling was specifically designed to mount to hollow bores with an expanding tapered clamping element and are manufactured with a stainless steel bellow exhibiting very high torsional rigidity with zero backlash. The main advantage
of the bellow is that it can compensate for axial, angular, and lateral misalignment simultaneously.

The moment of inertia is also very low due to its low mass and low weight. Ideal for high-speed servo applications where rapid acceleration/deceleration cycles exist.

The coupling hubs are custom bored and can accommodate shaft diameters from 3 to 60 mm (0.12 to 2.36 in.) and the expanding hub can accommodate bores from 8 to 60 mm (0.31 to 2.36 in.).

Sizes are available for torque capacities ranging from 15 to 300 Nm (133 to 2,655 in. lbs.).

Contact R+W America at 630.521.9911 for more information or visit our website at www.rw-america.com
More from Fasteners & Hardware