Belden Announces New Compression Connectors, Tools, and Cable Assemblies for A/V, Safety, and Security Applications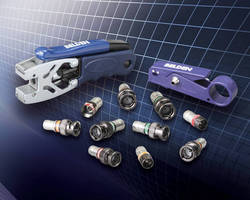 Belden Compression Connectors, Coaxial Cables and Tools constitute a best-in-class, end-to-end solution for field installations. Belden Cable Assemblies are available for quick delivery and provide both the highest level of reliability and installation ease.

RICHMOND, IN - Belden (NYSE: BDC), a leader in signal transmission solutions announced today the introduction a new line of F, BNC and RCA Compression Connectors and Tools, along with the availability of both standard or custom-configured Cable Assemblies. When the new Connectors and Tools are used in combination with Belden Coaxial Cable, they comprise a top-quality, field installation solution designed for reliable signal performance and easy installation. For the ultimate in reliability and installation ease, users should specify Belden Cable Assemblies.

Belden Compression Connectors and Tools

The new Compression Connectors are fine-tuned to Belden Coaxial Cable tolerances to ensure maximum signal reliability and performance for audio/video, safety and security applications. The new Compression Connector Tool also ensures a secure, positive compression the first time and every time, resulting in faster, easier installations. Other connector systems use a crimping technique which inevitably damages the jacket, dielectric and wire, resulting in multiple signal leakage points and moisture entry.

According to Chris Nieshalla, Belden's Vertical Marketing Manager for Commercial Audio/Video Products, "Our goal is to provide our customers with a complete, single-source field installation solution that includes the cabling, connectors and tools - all manufactured to Belden's exacting standards. With all components guaranteed to work together as a system, installers and integrators will be able to both streamline and improve the overall quality of the installation process, while providing their customer with optimal signal performance."

Nieshalla also notes that when the Connectors and Tools are used with Belden Cable, Belden extends a Limited Lifetime Warranty on the connectors. If other cable brands are used, a Limited 10-year warranty is offered.

Belden's entire family of F, BNC and RCA Series Compression Connectors exceed SCTE Standards for signal ingress, egress and water migration, while providing outstanding aesthetic and strength characteristics. Exceptional connector performance is assured through use of three 360-degree compression rings and a visual confirmation of cable entry. For the BNC and RCA connectors, a unique pop-up pin visually confirms a proper termination and contact point.

Three new tools are part of the field-installation solution:

- An ergonomically-designed Compression Tool that features high quality aircraft-grade materials for increased strength, durability and long service life. This tool requires less force, so it is easier to use than most. The tool requires no calibration when changing connector or cable types and, unlike crimp connectors, there are no additional dies to purchase.

- Two Stripping Tools: one for Standard RG/59U and RG/6U Cable (with a heavy-duty spring for stripping quad cable and a built-on Flaring tool for RG/6U Cable) and a lighter spring model for more delicate Mini Coax RGB Cable.

Belden Cable Assemblies

Belden's Cable Assemblies provide the maximum in signal quality and performance. Assembled in a controlled environment to specific factory specifications, Belden's factory-terminated cable assemblies carry a limited lifetime warranty. Belden assemblies can be purchased for quick delivery through a single, familiar distribution network.

The standard line of Belden Cable Assemblies includes, in part, the following (specials are available upon request):

- Breakouts

- CCTV Camera Cables

- CATV

- Patch Cords

- BNC

- Composite A/V

- RCA

- RGB

Josh Dixon, Belden's Vertical Marketing Manager for Security and Safety Products, notes: "Because Belden's cable assembly operation is particularly expert and maintains the highest degree of process control, all cable assemblies are of especially high quality. Use of Belden high performance cables - such as Belden New Generation® Brand Coax, CATV and RGB cables - further ensures the highest level of system reliability and full interoperability with the end users' equipment."

For more information on Belden's Compression Connectors and Tools, request New Product Bulletin #313. For more information on Belden's Cable Assemblies, request New Product Bulletin #312. Contact Belden at P.O. Box 1980, Richmond, Indiana 47375, 1.800.BELDEN.1. FAX: 765.983.5294. Or visit our Compression Connectors and Tools page on our Web site.

About Belden

St. Louis-based Belden is a leader in comprehensive cable, wireless signal, industrial networking and other transmission solutions. It has approximately 6,200 employees, and provides value for industrial automation, enterprise, education, healthcare, entertainment and broadcast, sound and security, transportation, infrastructure, consumer electronics and other industries. Belden has manufacturing capabilities throughout North America and Europe and a market presence in nearly every region of the world. Belden was founded in 1902, and today is a leader with some of the strongest brands in the signal transmission industry. For more information, visit www.belden.com.

More from Optics & Photonics