Behringer HBE Saw Delivers Increased Throughput for Spanco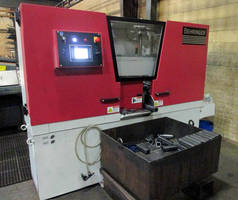 Morgantown, PA U.S.A. – Behringer Saws, Inc. (www.behringersaw.com), a manufacturer of high-quality bandsaw, circular and plate sawing solutions, has announced it recently shipped an HBE 321A Dynamic Horizontal Bandsaw (http://www.behringersaws.com/news/hbe-series-bandsaws-1277) to Spanco Inc., located in Morgantown, PA.



Spanco, a manufacturer of overhead workstation cranes, took delivery in April 2015 of the HBE, which the company uses to saw tube sections for fabricating cranes.



"The Behringer HBE Saw has already increased throughput in our work center by roughly 20% due to faster cycle times and reduced time required for maintenance. It has also substantially improved the accuracy of our cuts," said Mr. Chris Moke, Production Manager at Spanco.



The HBE Dynamic Horizontal Bandsaw is a versatile, compact automatic saw, featuring an array of leading-edge features designed to improve performance and precision while maximizing user convenience and safety. Ideal for a wide range of application environments from production cutting steel service centers to metalworking job shops, the HBE saw has a rigid dual column cast iron frame and a servo-driven precision downfeed control that automatically adjusts blade pressure, creating an optimal balance of feed rate and pressure for improved quality and cutting rates, while extending blade life.



An electrically powered ball screw-driven material feed gripper eliminates backlash and ensures precise material positioning for improved accuracy. The optional Automatic Feed Control (AFC) feature automatically adjusts cutting parameters such as blade speed and downfeed rate to the material grade and shape, allowing operators to create flexible material programs, leveraging cutting data based on the specific material grade.



About Spanco Inc.

Spanco Inc. is the leading American manufacturer of overhead workstation cranes, providing high quality, cost effective material handling solutions for more than three decades, with the experience and resources to meet a wide variety of industry needs. Spanco offers hundreds of pre-engineered lifting and moving solutions, including Workstation Bridge Cranes, Jib Cranes, Gantry Cranes, Monorails, and Tractor Drives. Visit Spanco at www.spanco.com.



About Behringer, Saws, Inc.

Behringer Saws, Inc. provides a wide variety of world-class quality automatic bandsawing, material handling systems, high performance circular cold saws, and plate saws to corporations, service centers, job shops and manufacturers throughout the world. Behringer offers cost-effective, easy-to-use superior saws designed to cut ferrous and non-ferrous plates, tubes, profiles and solids.



For more information on Behringer high-performance saws, contact Behringer Saws, Inc., 721 Hemlock Road, Morgantown, PA 19543. Call 888-234-7464 or visit www.behringersaws.com.