Bee-Safe Cleanroom Apparel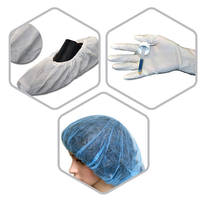 Enfield, CT – High-Tech Conversions has expanded their line of Bee-Safe Cleanroom Apparel. The line now includes Polypropylene Bouffant Caps, Sterile Gloves, and Super Non-Skid Shoe Covers.



Bee-Safe Polypropylene Bouffant Caps have a soft non-woven head cover and feature elastic edging for added strength and support. They are offered in blue and white and come in the following sizes: 19", 21", 24", and 28".



Bee-Safe Sterile Gloves, available in Latex and Nitrile options, are powder-free, ambidextrous, and measure 12" in length. They feature textured finger tips for enhanced grip. These gloves are individually pair packed in numbered pouches to ensured traceability.



Super Non-Skid Shoe Covers from the Bee-Safe line were designed to provide the ultimate level of traction and an enhanced level of grip when compared a standard Non-Skid Shoe Cover. They are available in large and x-large sizes and come in white.



Products in the Bee-Safe Cleanroom Apparel line deliver the perfect combination of value and quality. They were designed and manufactured to offer customers a cost-saving alternative to their current consumable apparel items. Cases are in stock and ready to ship from High-Tech's Enfield, CT based manufacturing and warehouse facility.



About High-Tech Conversions Inc.

High-Tech Conversions is a manufacturer of innovative cleaning products for controlled environments including wipes, gloves, apparel, SMT cleaning stencil wipes, and more. They produce industry leading products that are trusted by companies involved in electronics assembly, scientific research, biotechnology, and pharmaceutical industries.



For more information, contact High-Tech Conversions at 860-265-2633 or visit www.High-TechConversions.com.



More from Laboratory and Research Supplies and Equipment