Bearings withstand wet, dirty, hot, and cold environments.
Press Release Summary: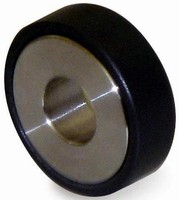 Made of stainless steel and self-lubricating polymers, Radial Poly-Round® bearings are manufactured to directly interchange with industry-standard unmounted ball bearings. Products operate completely without grease at speeds up to 400 surface feet per minute, and materials are available that work at temperatures from -200 to +700°F. Self-lubricating properties minimize downtime and optimize resistance to harsh environments.
---
Original Press Release:

EDT Radial Poly-Round Bearings Last Longer in Wet, Dirty, Hot or Cold Environments



(August 17, 2006) -- New Radial Poly-Round® bearings from EDT Corp directly interchange with industry-standard unmounted ball bearings. They are designed for locations where traditional radial bearings fail due to problems associated with rolling element operations (in places that are wet, dirty, hot or cold, see intermittent operation). Radial Poly-Rounds® offer superior life in harsh environments because they operate completely without grease.

These new EDT Poly-Round® bearings are made of stainless steel and high performance polymers that are self-lubricating so the units require no oil or grease; they can provide many times the life of conventional rolling element bearings in applications where lubrication would normally wash away, evaporate, congeal or solidify. Materials are available that work at temperatures from -200°F to +700°F (-125°C to 375°C). The new bearings operate at speeds up to 400 surface feet per minute under moderate radial loads and side thrust.

Their self-lubricating capabilities and resistance to extreme conditions mean that EDT Radial Poly-Round® bearings provide substantial savings by reducing the frequency of production down-time due to maintenance; eliminating the need for machinery to be shut down while lubricant is applied or bearings are changed; reducing the cost of maintenance labor, lubricant and parts.

Radial Poly-Round® bearings also provide substantial improvements in sanitation and clean-ability. The self-lubricating capabilities of the polymer eliminate the need for lubricant which is a potential source of direct product contamination and an environment for bacteria growth. Operational savings plus higher levels of sanitation result in lower cost of ownership compared to traditional rolling element designs in extreme environments.

These products are designed to dimensionally interchange with most popular rolling element bearings so in most cases installation simply involves replacing a bearing. They are ideal in many applications in bottling machinery, packaging machinery, meat and poultry processing equipment, metalworking machinery, assembly machinery, material handling equipment, printing presses, robotics, etc.

EDT specializes in bearings and bearing products for severe service environments with a full line of mounted and unmounted greaseless bearings, corrosion-free and sanitary bearings, stainless take-up frames, and bearing accessories.

For more information, contact Scott Davis, National Sales Manager, EDT CORP; Phone: 479-575-9120, e-mail: scottd@edtcorp.com. Visit EDT's Web site at: www.edtcorp.com

More from Communication Systems & Equipment