Bearings suit space, weight, and load constraint applications.
Press Release Summary: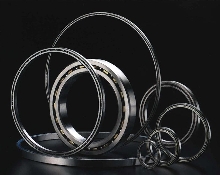 Thin-section ball bearings have bore diameter greater than 4 times radial cross section. Bore sizes range from 1 to 40 in. in 7 cross sections from 3/16 to 1 in. Bearings are also available in metric sizes and in radial, angular, and 4-point contact designs. User may specify seals, separators, and materials such as SAE 52100 steel, 440C stainless steel, and 17-4 stainless steel. Bearings are offered in precision classes ABEC-1 through ABEC-7.
---
Original Press Release:
RBC Offers Thin Section Bearings

Designed for applications with space, weight, and load constraints

(Fairfield, CT - June 2002) RBC Bearings is offering a series of thin section ball bearings, which are engineered for applications requiring less weight, less geometric space, and higher stiffness than conventional bearings.

Generally, a thin section bearing has a bore diameter greater than four times the radial cross section. RBC's standard thin section bore sizes range from 1" to 40" and in 7 cross sections from 3/16" to 1". Additionally, RBC specializes in custom bearings to solve specific application challenges, and customers are encouraged to contact RBC about their particular request.

The new bearings are also available in metric sizes and in radial, angular, and 4-point contact designs. Customers may specify a variety of seals, separators, and different materials such as SAE 52100 steel, 440C stainless steel, and 17-4 stainless steel. Special ball materials available include 440C stainless steel, silicon nitride (ceramic), and M-50 steel. Further, special coatings, including thin dense chrome, are available for enhanced corrosion resistance. RBC thin section bearings are offered in precision classes ABEC-1 through ABEC-7.

According to the company, typical applications for RBC's thin section bearings include aerospace equipment and components, antenna pedestals, construction equipment, harmonic drives, specialized industrial machinery, material handling mechanisms, metalworking machine tools, medical equipment, military turrets, optical equipment, packaging machinery, radar equipment, robotics, rotary joints, satellite systems, semiconductor manufacturing equipment, slip ring assemblies, speed reducers, and textile machinery.

For more information about RBC's thin section ball bearings, including separators, lubrication requirements, seals, load ratings, speed capacities, tolerances, mountings, recommended fits, or a custom bearing need contact RBC at 800.390.3300, or
www.rbcbearings.com

More from Services