Bearing System suits planetary wind turbine gearboxes.
Press Release Summary: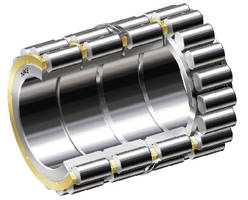 Based on single-row cylindrical roller bearings of RN range, Modular Bearing System features one-piece solid brass cage, which is guided by inner ring, and includes grooves for endoscopic inspection of inner raceways. To conform to individual load and design parameters of specific gearbox, bearings can be assembled in sets of 2, 3, or 4. Each bearing set includes components required to secure bearings axially in planetary gears, such as retaining rings and loose rib rings.
---
Original Press Release:

Modular Bearing System from NKE for Planetary Wind Turbine Gearboxes



Steyr, Austria, February 2009. Austrian bearing specialist NKE Austria has developed a modular bearing system for planetary gears in wind turbine gearboxes. The new bearing assemblies offer the advantages of a standardisation of the bearings used in this application, a reduced diversity of parts and simplified logistics. The system is already in use in the 1.5 MW, 2 MW and 2.5 MW wind turbine gearboxes of a well-known German gearbox manufacturer.

Most wind turbines use gearboxes to transform the relatively low rotational speed of the main shaft into higher speeds required for power generation. Because the forces a modern wind turbine gearbox has to transmit are forever increasing while the gearbox itself has to remain compact, single- or two-stage planetary gearboxes are commonly used. The bearings of the planetary gears are among the highest-loaded in this specific application. In modern gearboxes an integrated planetary bearing arrangement is used, in which cylindrical roller bearings without an outer ring are fitted in the planetary gears, with the bore of the gear forming the outer raceway.

The modular concept is based on single-row cylindrical roller bearings of the RN range, which do not have an outer ring. These bearings are equipped with a one-piece solid brass cage, which is guided by the inner ring (MPB). This cage features inspection grooves for endoscopic inspection of the inner raceways as standard.

These single row bearings can be assembled to sets of two, three or four bearings (see Fig. 2.) to conform with the individual load and design parameters of a specific gearbox.

NKE supplies ready-to-install matched bearing sets. The tightly toleranced overall height of each individual bearing and their precise matching of these ensures an even distribution of the radial loads. Each bearing set includes the components required to secure the bearings axially in the planetary gears - such as retaining rings and loose rib rings. If required, the overall width of each bearing set can be adapted to the operating conditions and the available space with spacer rings fitted between the individual bearings.

Used consistently throughout the gearbox assembly, the modular concept has numerous advantages for the user: the designs of planetary bearings can be simplified; the bearing design can be standardised for the first and second gear stage and across various gearbox sizes; the required number of bearing variants is reduced; the modular design simplifies the adaptation of bearing set characteristics to the requirements of each gear stage; the one-piece solid brass cage provides excellent rolling element guidance even during rapid acceleration; and the lubrication grooves provided as standard improve the lubrication of the planetary gear bearings.

Each bearing set is packaged as a unit and is marked to prevent inadvertent swapping of matched components within each set. All sets are subjected to a stringent quality inspection of their functional characteristics before leaving NKE's factory in Steyr.

Beside rolling bearings for wind turbine gearboxes, Austrian bearing specialist NKE develops and produces standard and special bearings for all industrial applications and provides product development, application engineering and a full range of technical, consulting, documentation and training services. NKE's products are distributed through 15 international representative offices and more than 240 distribution outlets in 60 countries.

(Authors: Daniel Thalmann, team leader in the technical service of NKE Austria GmbH, is responsible for ensuring first-rate technical support for customers. Design team leader Faruk Duskunovic, together with his design team at NKE, is responsible for creating the drawings of the specified product features and of new design ideas for standard and special bearings.)

NKE at Motion, Drive & Automation, Hannover, 20 to 24 April 2009: Hall 25 Stand B15

Company information:

NKE Austria GmbH is a bearing manufacturer with headquarters in Steyr, Austria. Founded in 1996 by a group of senior staff members of former company Steyr Wälzlager, NKE has about 170 employees and offers both standard and special bearings for all industrial applications. NKE's core functions - engineering, product development, final processing of components, assembly, quality assurance, logistics, and sales and marketing - are centralised at its Steyr headquarters. The Steyr site is accredited to ISO 9001:2000 (design, development, production and distribution of bearings) and ISO 14001:2004 Its wide range of standard bearings are either available from stock or on short production lead-times. NKE also provides tailored products and solutions. In addition to product development and application engineering NKE provides a full range of technical services, consulting, documentation and training. NKE's products are distributed through 15 international representative offices and more than 240 distribution outlets in 60 countries.

Contact in the USA:

NKE AUSTRIA GmbH, US representative office

Mr. Dick Scott

20 Barney Road, P.O. Box 5255

Clifton Park, New York 12065

Tel: 518 371 5759

Fax: 518 383 6487

Contact in Austria:

NKE AUSTRIA GmbH

Ms. Janet Mo, Marketing

Ennser Str. 41a

A-4407 Steyr-Gleink, Austria

Tel: +43 7252 8666 7345

Fax: +43 7252 8666 759

E-mail: j.mo@nke.at

Internet: www.nke.at

More from Electrical Equipment & Systems