Bearing Bars suit aircraft and diesel engine applications.
Press Release Summary: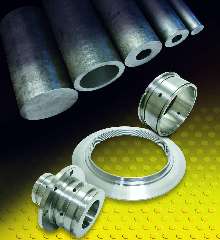 Continuous-cast aluminum alloy Truline Series 850 bars, available in solid and tube shapes, withstand operating pressures to 10,000 psi and speeds to 36,000 rpm. Acid- and corrosion-resistant material is hard enough to resist excessive penetration by dirt or waste metal particles and is soft enough to allow particles to penetrate bearing surface. Bars are available with 11/16-13 1/2 in. OD and 10 in. ID, with ¾ in. minimum wall section. Lengths are available up to 12 ft.
---
Original Press Release:

Lightweight, Corrosion Resistant Bearing Components Machined From Truline Aluminum Alloy Bearing Bars Are Ideal For High Speed Aircraft And Diesel Engine Applications


Plymouth, Minnesota: Truline 850 series aluminum alloy bearing bars are continuous cast aluminum bars in solid and tube shapes. They are ideal for machining into precision bearing components that are lightweight, corrosion resistant, have high thermal conductivity, superior ductility, high wear resistance and conformability features. They are ideal for slide contact applications and are superior for machining without porosity or oxides.

Providing an alternative to steel, bronze, and ductile iron bar material, Truline aluminum alloy bearing bars from Progress Casting have high strength and long life. Tests verify bearings machined from Truline material withstand operating pressures up to 10,000 psi and speeds to 36,000 rpm in high output applications including aircraft and diesel engines. These applications recorded over 120,000 hours of trouble free operation under severe operating conditions.

Compatible with most commercial lubricants, Truline bearing bars resist acid and corrosion. The 850 series aluminum alloy material is hard and resistant to excessive penetration by dirt or waste metal particles, yet soft enough to allow particles to penetrate the bearing surface thereby protecting shaft and other components.

Additional features include compatibility, versatility and conformability. Truline bearings can be used with all shaft or housing materials from 145 to 500 BHN. They deliver excellent performance in a wide range of engines and power transmission systems ranging from aircraft engines, compressors and diesels. They also outperform many other metals in laboratory tests for high edge-loading applications.

These Truline continuous cast aluminum alloy bars are available in the following sizes: O.D. 11/16 inch to 13-1/2 inch and I.D. to 10 inch with 3/4 inch minimum wall section. Lengths available: 10 and 12 feet for diameters up to 5-3/4 inch and 3 foot bars for diameters over 5-3/4 inch.

Interested in more information? See at trulinebearingbars.com

Or call Toll Free 1-800-866-3025. Write to Progress Casting, 2600 Niagara Lane North, Plymouth, Minnesota 55447. Fax: 763-557-0320.

More from Architectural & Civil Engineering Products