Bearing Assemblies simplify ball-screw installation.
Press Release Summary: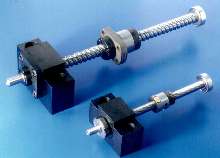 Series SLS and SLF support bearing assemblies are available in 4 sizes with inside diameters of 6, 8, 10, and 12 mm; compatible with precision-ground miniature ball screws of Series 1112, 1214, 1412, and 1510 and their respective counterparts in rolled thread. Each assembly includes backlash-free, sealed, precision, duplex bearings, locknut, and housing in either pillow-block design or round unit with rectangular flange.
---
Original Press Release:
New Support Bearing Units for Steinmeyer Miniature Ball Screws

Bedford, MA, January 30, 2004 -- Steinmeyer, Inc. announced today two new series of industry standard support bearing assemblies for our miniature ball screw product line.
Designated as series SLS and SLF, these new units provide significant cost savings to machine engineers and manufacturers, because they eliminate design and assembly time. By providing
an integrated solution, Steinmeyer has simplified ball screw installation. Each assembly includes back-lash free sealed precision duplex bearings, locknut and housing in either a pillow
block design (Series SLS), ready for attachment to a flat surface, or a round unit with rectangular flange (Series SLF). Since the bearings are greased for life, there is no
maintenance required.

Selecting, and sourcing, support bearings for miniature ball screws is not an easy task. Small bearings (with inside diameter ranging from 6 to 12 mm) may be quite expensive, especially for a
preloaded duplex pair - and that assumes you locate a reliable source of supply. And then there is the added cost to design and machine a precision housing, plus the labor and expertise to
properly preload the set without damaging the races. Responding to requests from ball screw users for an easier alternative, Steinmeyer designed the new Series SLS and Series SLF in
four sizes for bearing inside diameters of 6, 8,10 and 12 mm. They are only compatible with Steinmeyer precision ground miniature ball screws series 1112,1214,1412 and 1510 and their
respective counterparts in rolled thread (series 1132, 1234, 1432 and 1530). When the ball screws are ordered together with the new support assemblies, Steinmeyer provides the bearing
units already assembled on the screw and ready for installation. And for screws with longer thread, a single radial support bearing is also included on the back end.

For further information on support bearing assemblies from Steinmeyer call 1-800 -297 -6403 or visit www.steinmeyer.com.
More from Machinery & Machining Tools