Sensors / Detectors / Transducers
Baumer Inductive Sensor Receives John Deere Supplier Innovation Award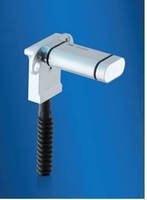 Baumer has been selected as a recipient of a John Deere supplier innovation award for 2015. The award is presented to a select group of suppliers who have demonstrated innovation in a product or service they provide to John Deere. A specially developed Baumer inductive sensor is a key enabling technology for one of the latest John Deere product innovations. The inductive sensor measures a distance on a target with high speed and high precision. This enables equipment condition assessment. Thus maintenance, output quality and cost of operation of the equipment is being optimized.Award selections are based on four factors – creativity, feasibility, collaboration, and bottom-line impact. John Deere created the supplier innovation awards in 2010 to promote innovation in the company's supply base and recognize suppliers who think creatively. The innovative sensor solution was made possible by close collaboration between the OEM and Baumer, Frauenfeld. The demanding requirements of the application ruled out the usage of standard sensors. Baumer's capability to analyze the application and the requirements during the collaboration resulted in specifically optimized inductive sensors. These Baumer sensors allow for fast and high resolution distance determination even during operation.



Baumer, based in Frauenfeld Switzerland, supplies a full-portfolio of sensor solutions including inductive sensors, ultrasonic sensors and frequency sweep oil level switches to John Deere. Baumer CEO Oliver Vietze accepted the recognition during formal ceremonies held on 27th of April 2016 in Moline,IL USA.



He said after the ceremony: "Our whole Team is very proud of beeing recognized for our innovation capability. It confirms our profound sensor and technology expertise. But it takes more to be really innovative. Product development in agriculture needs to take into account the demanding environment and other industry requirements such as reliability goals, product development processes and project management expectations. This award recognized the level of excellence Baumer achieved in all of these areas."



Further information: www.baumer.com



The Baumer Group is an internationally leading manufacturer of sensors, encoders, measuring instruments and automated image-processing components. Baumer combines innovative technology and customer-oriented service with intelligent solutions for factory and process automation and provides a unique range of products and technologies. The family company has around 2,300 employees with manufacturing facilities, sales offices and agents in 37 offices and 19 countries, always close to the customer. With consistently high quality standards worldwide and a huge potential for innovation, Baumer brings their customers critical advantages and measurable added value across many industries. For further information, visit www.baumer.com on the Internet.