Battery Straps protect rechargeable battery packs.
Press Release Summary: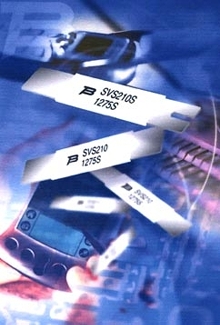 MF-SVS, MF-VSN and MF-VS Multifuse(R) Polymeric Positive Temperature Coefficient straps, with resettable fuses, enhance safety and performance of rechargeable batteries. MF-SVS has initial resistance as low as 14 mOhms and protects Lithium and Ni-MH chemistry cells; MF-VS210N, for GSM battery packs, and MF-VS170N, for lower pulse current applications, have maximum voltage of 12 V, and maximum current of 100 A; and MF-VS protects battery packs rated with maximum voltage of 16 V.
---
Original Press Release:
Bourns Announces Launch of New Battery Strap Products

Bourns Multifuse(R) product line introduces new generation of super-low resistance PPTC resettable fuses for battery pack protection

RIVERSIDE, Calif. - Mar. 4, 2002 -- Bourns, Inc., a leading manufacturer of electronic components and integrated solutions, today announced the launch of the next generation of Multifuse(R) Polymeric Positive Temperature Coefficient (PPTC) strap components designed to enhance the safety and performance of rechargeable battery packs.

The Multifuse(R) product line offers battery pack manufacturers a reliable and cost effective method of protecting the battery pack from external shorts and abusive charging. The product family has evolved over the years, consistently offering the industry new and improved products. The new products being introduced include the MF-SVS, MF-VSN and MF-VS product families.

MF-SVS Family
The MF-SVS product family offers pack designers and manufacturers a strap device with a typical initial resistance as low as 14 mOhms, providing the pack designer an immediate minimum increase in talk time capacity of up to six percent.

A key advantage of this product is that it is designed to trip at the optimum switching temperature of 85°C, protecting Lithium or Ni-MH chemistry cells from overheating and ensuring not only that the pack is more than adequately protected, but that it does not suffer from nuisance switching. The MF-SVS family is now available with a width as narrow as 3.6mm for design into the slimmest battery pack.

MF-VSN Product Family
The MF-VSN product family answers the need for ultra-slim products to match the reduction in thickness of the new generation Li-ion prismatic cells. The VSN products are rated to a maximum voltage of 12V, maximum current of 100A and consists of two main devices: the MF-VS210N designed for GSM battery packs, and the MF-VS170N designed for lower pulse current applications, both with a maximum width of 3.6mm.

MF-VS Family
Bourns' Multifuse(R) MF-VS family has been designed for the protection of battery packs rated with a maximum voltage of 16V and a maximum current of 100A. A hold current of 2.4A makes the product family ideal for use inside battery packs designed for PDAs, portable computers and cell phones. With a resistance as low as 20mOhms, the MF-VS increases the run time of the electronic device powered by the battery pack.

"Our product line has evolved in tandem with the battery pack industry. We now see that no two packs have the same requirements," said John Kelly, Product Line Manager for Bourns Multifuse(R). "Each pack is uniquely designed and has different mechanical and electrical requirements. Bourns has addressed these issues, and we can now supply a PPTC that has been designed to match the exact requirements of each pack. Consultation with our design team can result in significant cost savings and enhanced performance." Pricing and Availability Samples of Bourns(R) Multifuse(R) SVS, VSN and VS products are now offered for evaluation. Lead time on the products is currently six to eight weeks. Based on quantities of 100K, pricing for the products begins at $0.20 per piece.

About Bourns, Inc.

Bourns, Inc. is a leading manufacturer of Trimming Potentiometers, Precision Potentiometers, Modular Contacts, Switches, Resistor/Capacitor Networks, and Analog Input Devices, including Panel Controls, Encoders and Point Stick Navigators. Bourns also sells Chip Resistors, Chip Arrays and Inductive Components. Meeting the circuit protection requirements of next-generation products, Bourns' broad circuit protection offering includes an extensive line of PPTC Resettable Fuses, Thyristor-Based Overvoltage Protectors, and Line-feed Surge Networks. Bourns Communication Protection Product line includes Gas Discharge Tubes (GDT), Telephone Station Protectors, 5-Pin Protectors, Industrial Signal, Irrigation and Petroleum Protectors, CATV Coax Protectors, Signal Data Protectors, and the Indoor and Outdoor POTsplitters and Network Interface Devices (NID) product lines. Headquartered in Riverside, CA, Bourns serves a broad range of markets, including telecommunications, computer, industrial, instrumentation, automotive, consumer, medical, audio and various other market segments. Bourns' products are manufactured according to ISO-9000 and QS-9000 standards under Six Sigma quality programs.