Battery Charger fits in ThinSOT(TM) package.
Press Release Summary: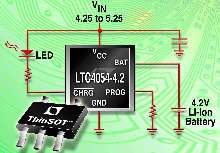 Monolithic Model LTC4054 4.2 V single-cell, linear Li-Ion battery charger includes on-board charge termination circuitry and power transistor housed in 5-lead, 1 mm high package. It delivers up to 800 mA charge current without external transistor. Thermal regulation maximizes charge rate without risk of overheating. USB-compatible unit keeps battery fresh after charge termination by monitoring voltage and automatically recharging if voltage drops below set threshold.
---
Original Press Release:

Complete Monolithic 800mA Linear Li-Ion Battery Charger Fits in ThinSOT Package


MILPITAS, CA - March 3, 2003 - Linear Technology Corporation introduces the LTC4054, a single-cell linear Li-Ion battery charger with on-board charge termination circuitry and power transistor housed in a 5-lead 1mm high SOT-23 (ThinSOT(TM)) package. The LTC4054 can deliver up to 800mA charge current in the tiny package without requiring an external transistor. Alternative solutions with an integrated transistor are housed in a package twice the size of the LTC4054. Moreover, other linear charger controllers in a SOT-23 package depend on an external transistor to deliver the same amount of current as the LTC4054. In addition to an integrated transistor, the LTC4054 requires no sense resistor, blocking diode or charge termination control circuit allowing a complete design to fit in just 18mm2 board area with 1mm height.

To eliminate the risk of overheating, the LTC4054 incorporates thermal feedback regulation by automatically controlling the charge current to limit the die temperature during high power operation or high ambient temperature. The LTC4054 keeps the battery "fresh" after charge termination by monitoring the battery's voltage and automatically recharging it if the voltage drops below a set threshold. Because of its standalone operation, compact solution and low 4.25V input supply operation, the LTC4054 is an ideal solution for charging a Li-Ion battery from the USB port in handhelds as well as Bluetooth(TM) headsets, portable MP3 players, battery powered GPS devices, PDAs and cell phones.

The LTC4054 is a linear charger for single-cell 4.2V Li-ion and Li-Polymer batteries. The IC charges the battery in constant-current/constant-voltage mode and terminates charging after detecting C/10. The termination event is indicated by a Charge Status pin, which can signal a microcontroller or drive an LED. The user sets the charge current with a resistor. The float voltage is preset at 4.2V with ±0.5% accuracy. By measuring the voltage on the LTC4054's PROG pin, the user can monitor charge current for the purpose of gas gauging. The LTC4054 operates from a 4.25V to 6.5V input source. The LTC4054 is priced at $1.40 each in 1,000-piece quantities.

Summary of Features: LTC4054
o Programmable Charge Current up to 800mA
o No External MOSFET, Sense Resistor Blocking Diode Required
o Complete Linear Charger in ThinSOT Package for 4.2V Single-Cell Li-Ion and Li-Polymer Batteries
o Thermal Regulation to Maximize Charge Rate without Risk of Overheating
o USB Compatible Charger
o Automatic Charge Termination
o Automatic Recharge

COMPANY BACKGROUND: Linear Technology Corporation was founded in 1981 as a manufacturer of high performance linear integrated circuits. Linear Technology products include operational, instrumentation and audio amplifiers; voltage regulators, power management devices, DC-DC converters and voltage references; comparators; monolithic filters; communications interface circuits; one-chip data acquisition sub-systems; pulse-width modulators and sample-and-hold devices; and high frequency devices. Applications for Linear Technology's high performance circuits include wireless and broadband telecommunications infrastructure, cellular telephones, networking products and satellite systems, notebook and desk top computers, computer peripherals, video/multimedia, industrial and medical instrumentation, automotive electronics, factory automation, process control, military and space systems, and high-end consumer products including digital cameras, MP3 players and other electronic products.

For more information, contact:
Doug Dickinson, Media Relations Manager
Linear Technology Corporation
1630 McCarthy Boulevard
Milpitas, CA 95035-7417
ddickinson@linear.com
408-432-1900

READER SERVICE: Call toll-free 1-800-4-LINEAR (for literature only), or go to the company's web site: www.linear.com

Note: LT and LTC are registered trademarks and ThinSOT is a trademark of Linear Technology Corp. Bluetooth is a trademark of Bluetooth SIG Inc.


More from Packaging Products & Equipment