Batching System tracks and weighs ingredients.
Press Release Summary: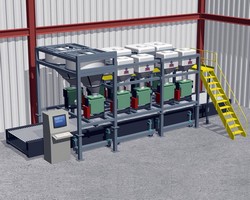 Featuring 4-24 FDA-USDA polyethylene dispensers, Micro Batching System is suited for production facilities using minor ingredients in product recipes. Dispenser capacity is 3.5-100 cu ft. Unit can be set up with modular ingredient dispensers for continuously changing recipes and batch sizes. When configured with multiple weigh stations, system allows simultanous weighing of ingredients at main station.
---
Original Press Release:

Micro Batching System offers Flexibility, Precision For the Batching of Minor Ingredients



Ingredient Masters, a manufacturer of precision batching systems for powdered, flaked and granular ingredients of all types, has introduced a Micro Batching System for continuous production facilities that use minor ingredients in their product recipes.

The Ingredient Masters Micro Batching System is most advantageous for facilities that run the same recipe repeatedly, in different batch sizes. It can also be set up with modular ingredient dispensers to accommodate recipes and batch sizes that change continuously.

Micro Batching Systems have four to 24 FDA-USDA polyethylene dispensers, each liquid-smooth, for maximum flow. Dispenser capacity is 3.5 to 100 cu. ft. Systems provide permanent tracking and of batch ingredients, and precise weight documentation.

The system can be configured with more than one weigh station, to allow individual ingredients to be weighted simultaneously at the main station, for fastest production of certified batches. Controls, and recipe storage capacity, is tailored to customer specifications. Custom programming is provided.

The IM Micro Batching System is a lean, efficient, JIT-compatible system that's well-suited to the precision batching of micro quantities of dry ingredients. It is compatible with abrasive and caustic ingredients.

Ingredient Masters specializes in precision batching equipment for the food and pharmaceutical industries, also chemicals, ceramics, minerals, gypsum and other products. Ingredient Masters, Cincinnati, OH (888) 345-4729 or (513) 231-7432. www.ingredientmasters.com


More from Electronic Components & Devices