Automated Storage/Retrieval Systems (AS/RS)
Bastian Solutions to Distribute Servus Technology in North America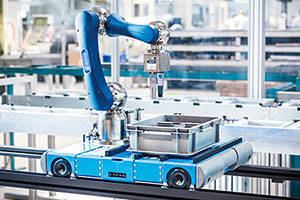 Robotic shuttle system combines storage and transportation to create seamless product handling from receiving to shipping.



Indianapolis, IN – Bastian Solutions, a global material handling systems integrator, announced today a partnership with Servus Intralogistics to distribute and integrate the company's robotic shuttle system in North America.



"The Servus technology offers our customers a flexible and affordable solution for goods-to-person order fulfillment," stated Aaron Jones, President of Bastian Solutions. "Whether in a distribution or manufacturing environment, Servus' unique design can not only handle storage of products but also provide a complete solution for transporting product throughout a facility, something no other shuttle system is currently offering."



Servus offers an innovative material handling solution in which all processes run seamlessly from incoming goods to small parts storage, picking, production, assembly, office and eventually to the shipping area. The process is carried out using autonomous robotic carriers (ARCs), which can transport loads up to 110 pounds.



Servus robotic shuttle systems provide:

1. Space efficiency

2. A de-centralized warehouse

3. Scalability and peak season flexibility

4. Energy savings

5. Just-in-time delivery

6. Affordable total cost of operation



Christian Beer, Owner and Manager at Servus Intralogistics, added, "Servus is proud to partner with Bastian Solutions. The dedication and innovation they bring to customers is outstanding, and in similar fashion, we want to provide a quality product their customers can rely on. We appreciate the opportunity and are looking forward to working with them and their customers." 



Bastian Solutions will be displaying a fully functional Servus system at MODEX booth #3779, April 4-7. Attendees are invited to meet with the Bastian Solutions and Servus teams during the show to learn more.



About Bastian Solutions

Bastian Solutions, headquartered in Indianapolis, Indiana, USA, is an independent material handling system integrator with clients and offices around the world. Founded in 1952, Bastian Solutions has established itself as an innovator in the fields of material handling automation, supply chain software, industrial controls, and robotics. The company includes 16 domestic offices as well as 7 international offices across Australia, Brazil, Canada, India, and Mexico. For more information, please visit http://www.bastiansolutions.com or follow @BastianSolution on Twitter.



About Servus Intralogistics

Servus Intralogistics is a subsidiary of the Austrian technology company, Heron. Our passion is the development and production of customized intralogistics systems with the intelligent ARC (autonomous robotic carrier). Servus helps customers to combine all in-house logistics in one optimal flow process – from goods receipt to the automated spall-parts warehouse, production, assembly or order picking to goods issue. Your logistics solution becomes as individual as your processes with Servus system components. For more information, visit http://www.servus.info.



More from Services