Base Mount Structural Pipe Fittings accommodate toe boards.
Press Release Summary: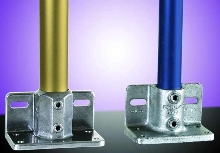 Suited for indoor or outdoor use, corrosion-resistant Kee Klamp® 69-8 malleable cast iron and Kee Lite® L69-8 aluminum slip-on fittings fit 1½ in. dia pipe. They can be used to construct industrial, commercial, and residential guard railing, as well as other pipe-fitted structures. Kee Klamp fittings are galvanized to ISO 1461 ISO 9001:2000 manufacturing quality standard, while Kee Lite fittings are certified to ISO 9001:2000 standard.
---
Original Press Release:

Kee Industrial Products Introduces New Kee Klamp® Cast Iron and Kee Lite® Aluminum Base Mount Structural Pipe Fittings to Accommodate Toe Boards


Galvanized Kee Klamp fittings are certified to new ISO 9001:2000 quality standard.

(APRIL 2005) - Kee Industrial Products, Inc., Buffalo, New York announces the introduction of two new base mount structural pipe fittings for use when toe boards need to be attached to the base of railings, balustrades, and other tubular pipe structures. The new Kee Klamp® Model 69-8 malleable cast iron and new Kee Lite® Model L69-8 aluminum slip-on fittings are corrosion resistant and fit Size 8 (1-1/2" diameter) standard pipe. Kee Klamp fittings are galvanized to ISO 1461 ISO 9001:2000 manufacturing quality standard certification.

According to Kee Industrial, the Kee Klamp 69-8 and Kee Lite L69-8 base mount fittings can be used to construct industrial, commercial and residential guard railing and other pipe-fitted structures such as bleachers, stairs, mezzanine rails, racks, frames, stands, and tables. The base plate holes have a 7/16" diameter, which is wide enough to all for attachment with either mechanical or chemical anchor. The side plates have slotted holes to allow for a degree of sideway movement to facilitate installation.

The new fittings feature case hardened set screws, enabling easy installation with a hex wrench, the company states. They can be powder-coated in a wide range of colors, and are practical for indoor or outdoor use. Compared to welded railings, Kee fittings are said to reduce installed costs by up to 50% or more, requiring no welding, drilling, threading or bolt. Constructed of high-grade Aluminum Silicon Magnesium, Kee Lite aluminum fittings are strong, lightweight, and feature a sleek, contoured design, bright finish for aesthetic appeal.

For free literature and additional information, contact Kee Industrial Products, Inc., 100 Stradtman Street, Buffalo, NY 14206. Toll-Free: 800-851-5181. Phone: 716-896-4949. Fax: 716-896-5696. E-Mail: info@keeklamp.com. KeeKlamp.com or KeeLite.com.

For additional information and electronic files, contact:
Kenneth A. Boos, Account Executive, Harold Warner Advertising, Inc.
Phone: 716-852-4410 o Fax: 716-852-4725 o E-Mail: extra@haroldwarner.com


More from Fasteners & Hardware