Bar Machine suits high-volume applications.
Press Release Summary: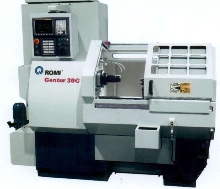 Featuring hydraulic collet chuck and automatic parts unloading, CNC 30 G incorporates U-shaped cross slide gang tooling with T slots for tool-holder positioning. Machine has 94.5 x 86.6 in. footprint and includes interactive programming screens, 5,500 rpm spindle, 7.5 hp ac motor, and GE Fanuc 0i-Mate control. Max bar capacities are 1.625 in. round, 1.250 in. hex and 1.00 in. square, with max bar length of 47.42 in. and max cutting length of 4.72 in.
---
Original Press Release:

ROMI Centur CNC 30 G is High-Volume Bar Machine


ERLANGER, KY - Romi Machine Tools, Ltd, an industry leader in machining technology, has built a reputation providing customer-driven solutions to a broad array of precision turned and milled part challenges. The Romi CNC 30 G is a rugged bar machine with hydraulic collet chuck and automatic parts unloading, as well as "U" shaped cross slide gang tooling with "T" slots for tool holder positioning, allowing flexibility for tool setup for multiple applications. Interactive programming screens make it equally adept at mixed-volume, short-run production as well as dedicated high-volume applications.

With maximum bar capacities of 1.625" (round), 1.250" (hex) and 1.00" (square), a maximum bar length of 47.42" and a maximum cutting length of 4.72", the 30 G combines high performance turning and high volume production within a compact 94.5" x 86.6" space-saving footprint. Rapid traverse rates of 630 imp (X axis) and 512 imp (Z axis) mean accelerated machine cycle times and reduced non-cut time.

Also reducing cycle time is the use of a 10-station, "U" shaped cross slide gang tooling system with "T" slots for one cut-off tool holder, one mechanical bar puller with built-in cut-off tool holder, two external turning tool holders, two boring bar holders, one double boring bar holder and five reduction sleeves.

The 30 G's simple but strong bed design features a stress-relieved cast one-piece "L" shaped bed, incorporating solid oversized vee and flat ways, ensuring the ultimate in accuracy over the full life of the machine. Sturdy construction provides superior vibration dampening, greater accuracy as well as longer cutting tool life.

Guideway surfaces are Turcite-coated and hand-scraped for ultra-precise fitting. Slides are moved on Romi-manufactured heat-treated and ground ball screws.

The spindle. The 30 G spindle design permits vibration-free full horsepower cuts for routine heavy stock removal using an ultra-precision A2-5" spindle. The 30 G's 5,500 RPM spindle is fast enough to utilize today's latest cutting tool technology. The A2-5" has a 2.08" thru-hole that is designed to accommodate a 16C collet. The 30 G comes standard with a modular bar guide tube and blind discs that can be sized for a specific job, providing bar guidance thru the spindle.

The 7.5 hp AC motor (30 minute duty rated)offers spindle speed ranges from 5 to 5,500 RPM. The 30 G's spindle is connected to the motor by a poly-V belt that improves transmission of motor power to the spindle. Romi spindles use ultra-precision bearings that are lubricated for life.

The control. The GE Fanuc 0i-Mate features the latest technological advancements in a uniquely small space. The 9" color display and full keyboard conveniently swivel for ease of operation.

The 0i-Mate moves data at top speed and includes:

Canned cycles - Custom Macro B

Thread functions - constant lead threading, multiple thread cutting, continuous thread cutting and thread cutting retract.

Tool functions - tool life management, tool nose radius compensation, 64 tool offset pairs.

Program creation and editing - G code family (A, B, C), background editing, storage for 400 part programs, 256 Kbytes of user memory.

Romi ABR-80 bar feeder (optional)

The ABR-80 allows reduced labor costs due to shortened setup times. Bars can be standard length, without regard to the parts being machined. Work-in-process (WIP) and non-productive machine times are greatly reduced, while efficiency and productive time are increased. The bar storage area is compact and organized with bar lengths ranging from 5.9" to 48". Plus, the use of the ABR-80 turns a 30 G bar machine into an automated machining cell, keeping operator intervention to a minimum and thus reducing process errors and scrap.

For more than 70 years and some 140,000 installations Romi's innovation, reliability, dependability and ease-of-use have set it apart - and ahead - of the competition. Romi's Combination and CNC lathes, turning and machining centers are meticulously built at its eight-plant manufacturing complex in Santa Barbara d'Oeste, Brazil, and are sold and supported in more than 60 countries. From its North American Headquarters in Erlanger, Kentucky, Romi provides an unparalleled degree of training, service and support for all Romi machine tool products.

For more information, contact ROMI Machine Tools, Ltd; 1845 Airport Exchange Blvd.; Erlanger, KY 41018. Tel: 859/647-7566. Fax: 859/647-9122. Toll Free US & Canada: 1-877-ROMIUSA. www.romiusa.com. e-mail: sales@romiusa.

More from Material Handling & Storage