Bandsaw Machine features 2-axis CNC control.
Press Release Summary: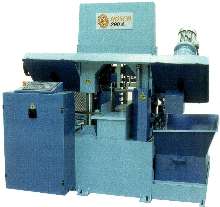 Rusch Model 290A allows operator to program type of material, shape, and dimensions of working piece using icon prompts. Optimal cutting parameters are set automatically by machine. Two sensors check perpendicularity of cut and power applied to each cutting tooth. Pressure-reducing valves are integrated with vices for profile cutting. In automatic mode 4 cutting cycles may be chosen: standard materials, profile or bundle cutting, short pieces and long pieces.
---
Original Press Release:

Rusch 290A By Scortegagna is Part of a Family of Two Axis Bandsaw Machine of the Next Generation


The Italian Technology Association (ITA, Inc.) is pleased to announce the launch of Rusch Saws by Scortegagna in the North American market. For years, Scortegagna has been a respected name in Europe. Scortegagna offers a full line of high precision bandsawing machines. ITA, Inc. has the Rusch Model 290A on display in their showroom at their facility located in Sparta, New Jersey.

The Rusch 290A is the most innovative bandsaw machine on the market today. The Rusch 290A is designed for cutting hard materials three shifts per day.

The core of the 290A is its "user friendly" two-axis CNC control. The operator programs the type of material, and the shape and dimensions of the working piece. The optimal cutting parameters are then set automatically by the machine. To make a cut, the operator only needs to push the "START" button. Icons, with descriptions of the associated operations, make data input quick and easy. In the program, from a single bar, the number of pieces to be cut and their respective lengths are calculated, therefore keeping material scrap to a minimum. It is possible to adjust the speeds (blade speed and downfeed of the saw) with the overrides. Two sensors check the perpendicularity of the cut and the power applied to each cutting tooth. This allows the CNC to adjust the cutting process automatically. For the highly skilled operator, it is possible to set cutting parameters manually. The
control display depicts: the cutting program, type of cycle, number of pieces to be cut, number of pieces already cut, carriage position, bow positioin, saw speed and downfeed speed.

Speed adjustments are made through an inverter system. Pressure reducing valves are integrated with the vices for profile cutting. In automatic mode it is possible to choose four cutting cycles: standard materials, profile or bundle cutting, short pieces and long pieces.

These features of the Rusch 290A insure ease of use, precise cuts and excellent performance.

For more information contact:
Bob Troyer, Division Manager
ITA, Inc.
532 Route 15
Sparta, NJ 07871
Phone: 973-579-3400
Fax: 973-579-3222
www.ita.cc
Email: info@ita.cc

More from Architectural & Civil Engineering Products