Ballistocardiography Sensors offer continuous monitoring.
Press Release Summary: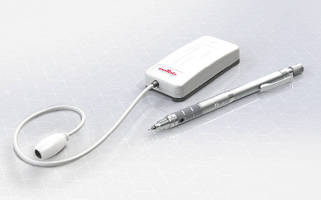 Designed for contact-less patient monitoring in elderly care centers and hospitals, Series SCA10H and SCA11H utilize MEMS accelerometers to provide vital sign information such as heart rate, heart rate variation, relative stroke volume, respiration rate, and bed occupancy. SCA10H-D01Â solderable PCB module houses accelerometer and microcontroller with embedded algorithms, while SCA11H-A01 includes SCA10H module coupled with Wi-Fi transceiver packaged in IP55-rated waterproof enclosure.
---
Original Press Release:

Continuous Contact-less Patient Monitoring Achieved with New Murata Solution



SCA10H/11H Series of ballistocardiography sensors delivers vital information



Smyrna, GA, – Murata Americas today announced the launch of its SCA10H and SCA11H series, Ballistocardiography (BCG) sensors that are designed for continuous contact-less patient monitoring in elderly care centers, hospitals, or in the home.  The sensors utilize BCG techniques and ultra-sensitive Murata MEMS accelerometers to provide vital sign information such as Heart Rate (HR), Heart Rate Variation (HRV), Relative Stroke Volume (SV), Respiration Rate (RR), and bed occupancy. 



The BCG sensors are available in two formats.  The SCA10H-D01 is a solderable PCB module housing both the accelerometer and microcontroller with embedded algorithms.  Given that, it is well suited for medical device and equipment manufacturers to incorporate into their own products, such as hospital beds.  The SCA11H-A01 solution includes the SCA10H module coupled with a Wi-Fi transceiver that is packaged in an IP55 rated waterproof enclosure.  It is ideal for software solution providers and system integrators that want to focus on service creation, rather than design engineering.  Further, it can operate in either a local mode or cloud environment.  Both the SCA10H and SCA11H are intended for integration into a customer's device or system.



"There is tremendous opportunity to leverage sensor technology to measure patient wellness, particularly remote monitoring.  Murata is at the forefront of enabling critical information delivery – such as vital signs, exercise habits, and sleep patterns.  This data can then be readily shared with doctors, families, etc., not only in a hospital setting, but from home as well," said Deryl Kimbro, Senior Business Development Manager, Murata Americas.



BCG is a technique for measuring the repetitive motions of the human body arising from the sudden ejection of blood into heart vessels, as with each heartbeat, that results in a discernable vibration.  The SCA10H/11H series detects this vibration by using a propriety coupling of low-noise MEMS accelerometers and advanced algorithms.  The accelerometer captures the signal that is then passed to a microcontroller to extract vital sign information.  In addition, the output information from the sensor can be aggregated for more complex measurements such as sleep quality, monitoring, stress measurements, and other health indicators. 



More information can be found at www.murata.com.



About Murata

Murata Manufacturing Co., Ltd. is a worldwide leader in the design, manufacture and sale of ceramic-based passive electronic components and solutions, communication modules and power supply modules. Murata is committed to the development of advanced electronic materials and leading edge, multi-functional, high-density modules. The company has employees and manufacturing facilities throughout the world. For more information, visit Murata's website at www.murata.com.